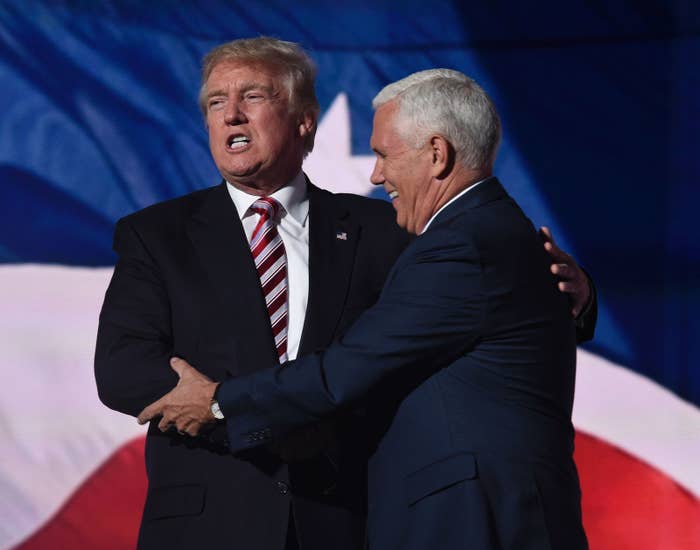 CLEVELAND — Donald Trump's takeover of the Republican Party became official on Thursday night as Trump accepted his party's nomination in a speech that codified his break with Republican orthodoxy.
In his remarks, Trump emphasized all the main themes of his campaign: an aggressive, restrictive approach to immigration and trade; less foreign intervention, particularly in the Middle East; and an embrace of authority and return to "law and order."
Those remarks — and Trump's campaign — cuts against many of the policies Republicans have run on in recent decades, like free trade and an active U.S. military presence abroad. Trump won the primary by running on these issues while other candidates hewed to well-worn "establishment" or "conservative" paradigms, and identifying a coalition of Republican primary voters whose hard-line views on immigration combined with economic populism had not found an outlet with the other candidates. Trump's speech on Thursday didn't contain new ideas for him. But the setting in which it was given signified the Republican party's full co-option of his agenda.
On Thursday, Trump gave a dark, foreboding assessment of the state of the country after taking the stage under a huge "TRUMP" projection on the screen above him and amid a dramatic musical score.
"Our convention occurs at a moment of crisis for our nation," Trump's speech text reads. "The attacks on our police, and the terrorism in our cities, threaten our very way of life. Any politician who does not grasp this danger is not fit to lead our country."

"Americans watching this address tonight have seen the recent images of violence in our streets and the chaos in our communities. Many have witnessed this violence personally, some have even been its victims."
"I have a message for all of you: The crime and violence that today afflicts our nation will soon come to an end," Trump said. "Beginning on Jan. 20, 2017, safety will be restored."
Trump's speech offers a sharp contrast with that of the last Republican nominee, Mitt Romney, who in his speech criticized President Obama for "disappointing" the nation but offered a more uplifting vision.
"Today the time has come for us to put the disappointments of the last four years behind us," Romney told the convention in August 2012. "To put aside the divisiveness and the recriminations. To forget about what might have been and to look ahead to what can be. Now is the time to restore the Promise of America."
Trump's speech, on the other hand, focuses more on the grievances shared by his voters, casting him as the voice of the "forgotten" and giving a fortress-like vision of America.
"Tonight, I want every American whose demands for immigration security have been denied — and every politician who has denied them — to listen very closely to the words I am about to say," Trump said. "On Jan. 21 of 2017, the day after I take the oath of office, Americans will finally wake up in a country where the laws of the United States are enforced."
And Trump's speech de-emphasized issues that have undergirded modern movement conservatism. Abortion, for example, was not mentioned. Neither was marriage.
Trump's acceptance speech marks the end of a convention that was as fraught as any in recent decades. Thursday — the night of Trump's speech and the last night of the convention — was the only night in which the arena was fully packed. Many top Republicans did not attend, and many of those did hardly mentioned Trump in their speeches, instead focusing on Hillary Clinton. A video about the Republican wave in the 2014 midterm elections shown before RNC Chairman Reince Priebus' speech seemed transported from an alternate reality. And Ted Cruz, the runner-up in the primary who refused to fall in line and support Trump after he suspended his campaign, gave a dramatic speech in prime time on Wednesday refusing to endorse Trump and encouraging Republicans to vote their conscience.
Even before the convention gaveled in, anti-Trump delegates were still trying to find a way to stop his nomination, attempting rules changes that would unbind them from him.
But by the time of Trump's speech on Thursday, the rebellion had faded — rumors of a potential walkout didn't come to fruition — and the convention crowd received the speech with enthusiasm. There were several chants of "build the wall" and "lock her up!" and even one of "help is on the way" — a reference to Dick Cheney's 2000 convention speech.
As the balloons and confetti fell over the Quicken Loans Arena after Trump finished, even the music seemed to acknowledge the party's situation: The Rolling Stones' "You Can't Always Get What You Want."