Does Ron Paul Have An Airport Hangar Problem?
The opening stop on Paul's South Carolina tour was all but empty. Does he connect with South Carolinian voters the same way he does with those in New Hampshire?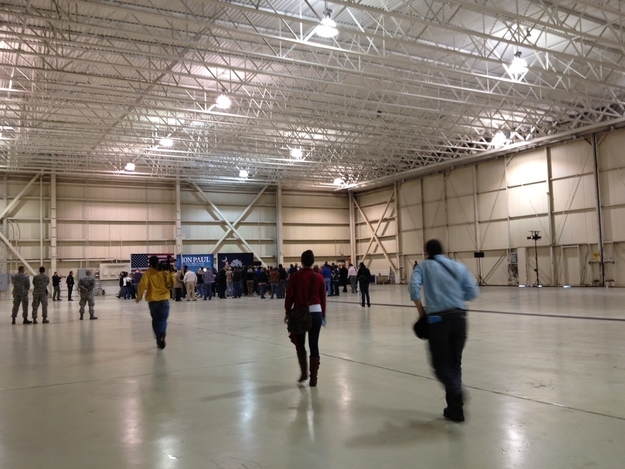 NORTH CHARLESTON, S.C. -- A few weeks ago in Manchester, New Hampshire, a Ron Paul rally at an airport hangar was so packed one could barely get through the door. In South Carolina, an almost-identical event in a hangar in North Charleston drew a sparse crowd, leaving most of the space empty.
Granted, the event was during a workday. But Ron Paul events are usually full of devoted supporters.
Ray Lewis, a radio host from Charleston, told BuzzFeed, "I don't think his word has gotten out enough down here."
Lewis is doing his part, holding an all-day Ron Paul marathon tomorrow on his show on the 98.1 rock station in Charleston. But "people are being fearmongered out of support for him," Lewis said.
Mike Mullaney, freshly out of college and based in Charleston, said that "a lot of people in the south are very conservative." He thought that values voters down here might be scared off by Paul's views on drug legalization and hands-off foreign policy.
But it's also possible that the low turnout this morning was just a symptom of oftentimes on-the-fly organization from the campaign. "Well, this was announced just two days ago," said Tom Utley, a Paul fan from Summerville, S.C. "And I had trouble figuring out where it was."