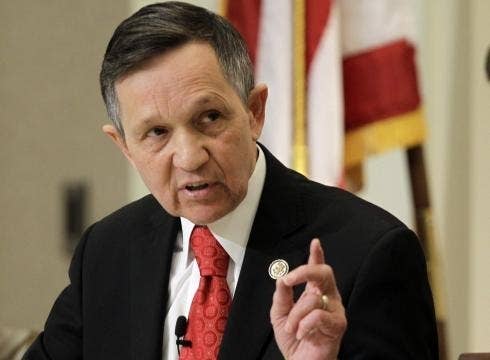 Dennis Kucinich's unlikely next act will be as a paid Fox News contributor, but he says it's "almost silly" to think that he'll be a kind of token.
"I'm way past that in my life and career," Kucinich said in a phone interview with BuzzFeed on Wednesday. "That's almost silly."
The former Ohio congressman, who lost his seat after redistricting to fellow Democrat Marcy Kaptur, said that Fox invited him to New York last week to discuss the deal. "That's when they made the offer and I accepted," he said.
He said that he'll appear on shows "across the Fox News Channel"; "There's a chance tomorrow, for example that I might end up being on O'Reilly. On another day I might end up being on Cavuto or on Fox Business."
In July, Kucinich announced that he was launching a PAC to support like-minded candidates after his exit from Congress. He said on Wednesday that "I'll continue to do that, but that's a long range plan and that's not going to in any way interfere with what I'm doing here."
Kucinich has been a semi-regular guest on Fox throughout much of his time in Congress, he pointed out: "I think that the perspective that I offer is one that they obviously have valued in the past because of the number of invitations that I've received. "
"I would say that over the years I've developed a relationship with people on every show they have," he said.
Kucinich will become one of the small number of liberal Fox contributors, which includes Evan Bayh and Bob Beckel. In the past, some of Kucinich's views have hewed more closely to Fox lines, like abortion; he held out longer than many other anti-abortion Democrats in Congress, and announced that he had become pro-choice in 2003.
Fox president Roger Ailes said on Wednesday he's "always been impressed with Kucinich's fearlessness and thoughtfulness on the issues," according to the AP.