Debate Provokes Lynn University's Best Pool Party
"I feel like I'm on MTV Spring Break, you know what I mean?" Still raging.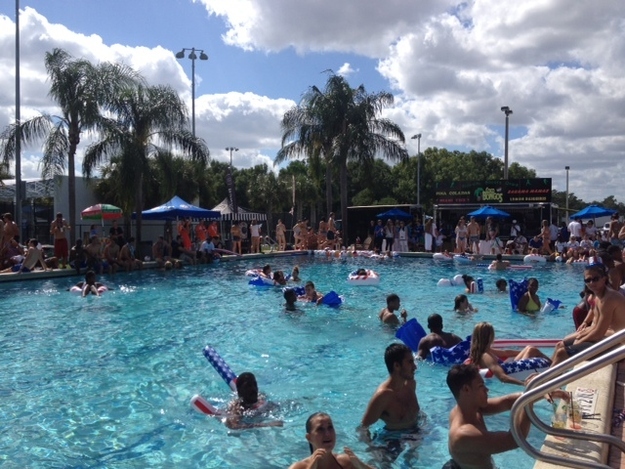 BOCA RATON, Fla. — Inside Lynn University before the third and final presidential debate, reporters are huddled in a large, grim gymnasium nearly identical to the press room settings at Hofstra or Centre College.
Outside, the scene is a little different. The students of Lynn — also known as "Lynndergarten" — are spending their Monday splashing in the school's recreational pool. The university has set up a pool party for the student body, who are mostly shirtless or bikini-clad and horsing around while drinking daiquiris and pina coladas from a stand called "Coco Bongos." According to students on the scene, the debate has prompted the biggest pool party Lynn's had in ages. It also means that the booths set up along the "Cause Way" outside the pool — the Libertarian Party has one, as well as the Palm Beach Democrats and other political groups — are looking a little neglected.
"I haven't seen this many people at a pool party at this school, and I've been here since I was a freshman," said Gordon Maxwell, a junior communications major in a Romney hat. "I feel like I'm on MTV spring break, you know what I mean?"
"I'm one of those guys who are calm, focused, you know? Studies a lot," Maxwell said. He is from the Detroit area and his father Peter Maxwell went to school with Mitt Romney at Cranbrook, he said.
Two freshman girls, Abby Busch and Michelle Almaguer, were gossiping near the pool.
Busch, a St. Louis native, said she was still undecided about voting but was leaning Romney, if she does vote at all. Almaguer, from Mexico, will not be voting.
"There's lots of people who are excited about the debate, and lots of people who are just whatever," Busch said.
"It's not always like this in the pool," Busch said. Asked if the pool was for people to party in, the girls agreed that it was.
Nearby, Annika Smith, another freshman, walked by in a Lynn t-shirt. Smith, a Ft. Meyers native, is an Obama supporter.
"This, the way it is right now? The pool does get packed, but not like this," Smith said. The reggae band, The Resolvers, launched into covers of popular reggae songs by recent Jamaican stars like Sizzla and Buju Banton while girls in bikinis danced suggestively in front of them.
"The school always sets up things like this for us," Smith said. "There's always little events going on throughout the week."
Meanwhile, the Gary Johnson tent outside lay fallow.
Karl Dickey, a Libertarian Party of Palm Beach County volunteer at the tent, pointed out that they were offering the "World's Smallest Political Quiz" so students could figure out where they stood politically.
"It's a catchy phrase and it's easy, it only takes 30 seconds," Dickey said. He said that of the (few, per BuzzFeed's observation) students who had dropped by, most were leaning Libertarian.
The Palm Beach County Democrats were having a bit more luck. "It probably doesn't hurt that we're three steps away from it," their representative Michael Coleman said. He also noted that he thought the Lynn students were mostly Democratic, and said that he'd had a relatively steady stream of visitors over the course of the afternoon.
"It's interesting out there, isn't it?" Coleman said, referring to the still-raging pool party.