D.C. Lobbyists Targeted Russian Opposition Leader On Behalf Of Sanctioned Oligarch
Emails show how lobbyists from Patton Boggs sought information on Alexey Navalny at the height of Russia's anti-Putin protests.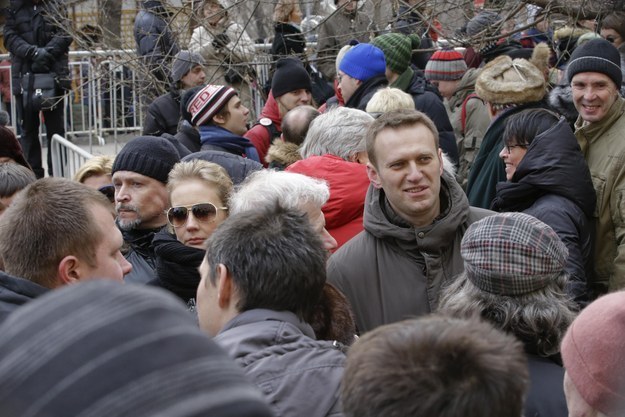 WASHINGTON — Lobbyists for Washington law firm Patton Boggs representing a Russian oligarch now on the U.S. Treasury sanctions list made inquiries on Capitol Hill about Russian opposition leader Alexei Navalny in 2011, at a time when Navalny was in jail and anti-Putin protesters were taking to the streets in Russia.
Emails from a Patton Boggs lobbyist to a congressional aide obtained by BuzzFeed and readouts of conversations with Patton Boggs lobbyists show that U.S. lobbyists working on behalf of Gennady Timchenko — formerly a major stakeholder in the oil and energy trading conglomerate Gunvor, a Switzerland-based trading house which handles the bulk of Russia's oil trade — attempted to obtain information about Navalny and about the Magnitsky Act, which was then moving through Congress. The correspondence suggests that the Washington hands hired by Timchenko were scoping out a domestic political opponent during a time of exceptional turmoil in Russian civil society.
The lobbyists — Nicholas Allard, Joe Brand, and Larry Harris — first approached the staffer in August 2011, ostensibly to discuss corporate raiding in Russia. In fact, the lobbyists wanted to discuss Navalny's mention of Timchenko at a Congressional hearing at which Navalny testified in 2010. The lobbyists said that Timchenko did not plan to sue Navalny but they sought to find out whether Timchenko could end up on the Magnitsky list and whether Gunvor could be subject to U.S. sanctions. Timchenko has sued in the past after allusions to his close relationship with Putin, including a libel suit against The Economist for alleging that Timchenko benefited from his ties to the president, which was later dropped.
The Magnitsky Act, which was passed in 2012, is a bipartisan bill that has banned Russians who had a role in the death of Sergei Magnitsky, a Russian lawyer who was jailed after uncovering large-scale corruption and was subsequently tortured and died in prison, from entering the U.S. and from using the American banking system. The list includes some prominent Russian officials.
The lobbyists renewed their efforts in December 2011 with a series of emails and a phone call on the subject of Navalny and the Magnitsky list. Correspondence provided to BuzzFeed shows that Patton Boggs' senior counsel Larry Harris reached out to the Congressional staffer in December of 2011 asking the staffer "What is a good time for [Patton Boggs partner] Joe Brand and I to call you for a quick question?" Harris specified that the purpose of the call was to discuss Navalny. Asked whether he knew Navalny was currently in jail, Harris said yes.
Navalny played a key role in the anti-Putin protests of 2011-12 and was jailed for 15 days as the unrest kicked off in December 2011 on trumped up charges of obstructing police. In July 2013, Navalny was sentenced to five years in prison on charges of embezzlement, and later given a suspended sentence. He is currently under house arrest in Moscow as prosecutors consider yet another case against him.
According to a readout of the call, the Patton Boggs lobbyists asked the staffer whether there were plans to have Navalny return to the U.S. and testify before Congress again. The lobbyists asked whether the Magnitsky Act would pass and whether it would include provisions about crony capitalism.
The lobbyists also asked about whether there were Russian Embassy officials at the hearing where Navalny had appeared (there were, as well as two reporters from Russian state news outlets).
Timchenko, a billionaire seen as close to Putin, was added to the U.S. sanctions list in March over Russia's actions in Ukraine. The U.S. Treasury has accused him of managing Putin's money. Timchenko sold his stake in Gunvor the day before the list came out. Since then, several more companies tied to Timchenko have been added to the sanctions list.
Patton Boggs lobbyists working on behalf of Timchenko sought U.S. government funding last year for luxury aircraft for his aviation company Airfix Aviation, according to Reuters. According to the Reuters report, the lobbyists sought to correct "unfounded allegations" about Timchenko's role as an oligarch close to Putin. Patton Boggs refused to confirm whether or not they still work for Timchenko or any of Timchenko's companies when reached by BuzzFeed in March, saying "We're not going to address that at all."
Harris and Brand did not respond to a request for comment about their Navalny-related inquiries, what kind of work they were doing for Timchenko at the time, and whether or not they still have a business relationship with Timchenko. By law, U.S. persons or businesses are prohibited from doing business with people on the sanctions list.
Spokespeople for Patton Boggs did not immediately respond to a request for comment.
CORRECTION: This article has been corrected to clarify Timchenko's former role in Gunvor. (5/2/14)