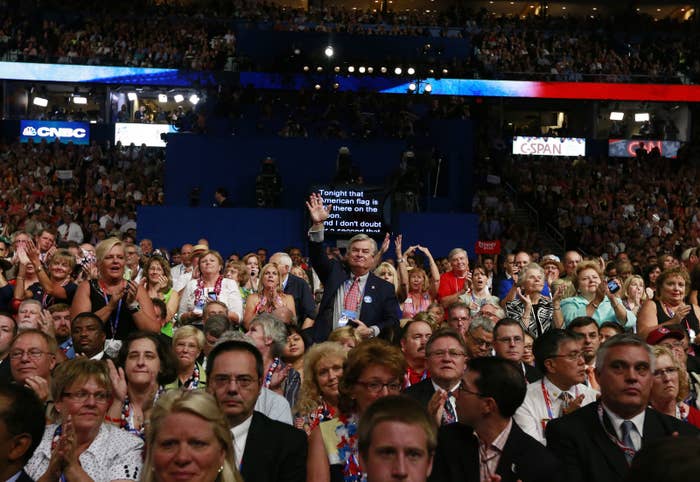 WASHINGTON — A Washington lobbyist who once tried to hold a fundraiser in support of Donald Trump now says he will raise money for an effort to unseat Trump at the Republican National Convention.
Jack Burkman told BuzzFeed News on Thursday that he will hold a fundraiser to support Free the Delegates, a group advocating that delegates to the convention be able to vote their conscience instead of being bound to Trump, at his home in Arlington, Virginia, on Friday evening. What makes Burkman's plan unusual is that he attempted to hold a fundraiser for Trump back in May, though he canceled when Trump's lawyer sent him a strongly worded letter.

Why the about-face? Well, Burkman pointed out that he had paid for newspaper ads against Trump last year. This year, "like a good Republican, I wanted to support him and figured I have to support the nominee." But then, "it became clear to me it was impossible to support him."
"Trump is like Mitt Romney on steroids," Burkman said. "He's occupied every possible position on the American political spectrum."
Burkman told BuzzFeed News he had coordinated the fundraiser with the group, and the invite says the event is "paid for by Free the Delegates."
But Free the Delegates founder Kendal Unruh, a delegate from Colorado, told BuzzFeed News she "found out about it from a reporter." (Burkman's invite also mentions freethedelegates.com, while the website for Free the Delegates is actually freethedelegates2016.com.)
"But the beauty of this movement is people take their own initiative to help and I don't micromanage every detail. :) I hope it is very successful, our Republic is at stake," Unruh wrote.
Burkman said the fundraiser's goal is to raise $1 million, and he expects the crowd to be composed of Republican lobbyists, defense contractors, and friends of his wife's from Dallas. Burkman, who has something of a penchant for publicity stunts — he once tried to introduce legislation to ban gay players from the NFL — declined to name specific individuals who will be attending.
"The answer is all the usual suspects," Burkman said.