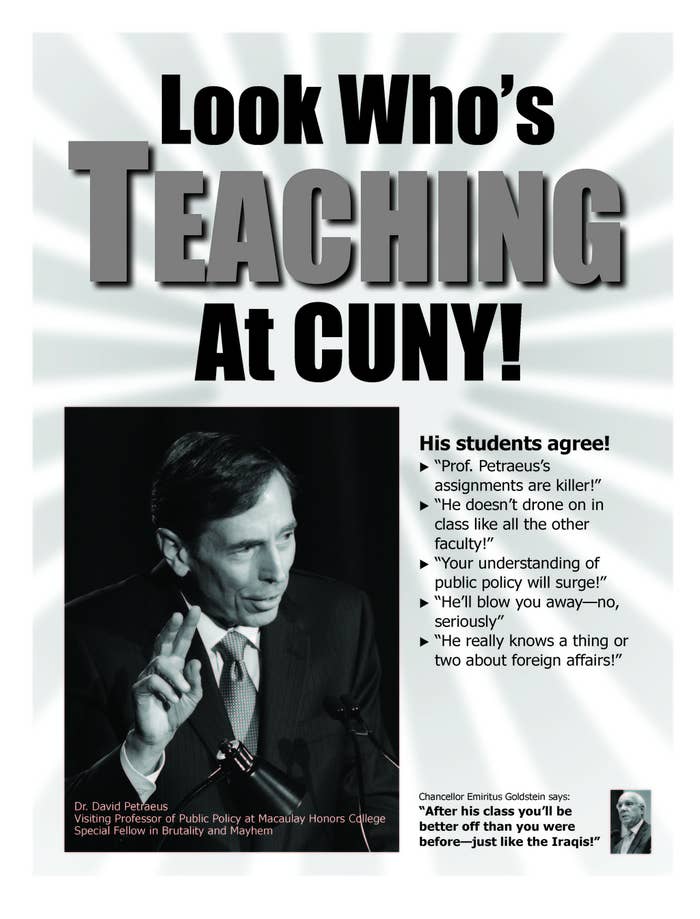 WASHINGTON — Students and professors in the City University of New York are angrily opposing the appointment of disgraced former CIA director David Petraeus to their faculty, and are circulating a satirical flyer about Petraeus.
The flyer features a series of puns with the words "drones" and "surge," plus a reference to Petraeus's affair with biographer Paula Broadwell and a fake quote attributed to CUNY's unpopular chancellor: "After his class you'll be better off than you were before — just like the Iraqis!"
Petraeus, who will be a Visiting Professor of Public Policy, may be in for an awkward time. The CUNY schools, which include eleven colleges and several professional schools, have become increasingly characterized by liberal activism and organizing in the last few years, especially during the height of the Occupy movement in New York. The same students and professors who protested tuition hikes and unilateral decisions by the school system's chancellor Matthew Goldstein are now up in arms about Petraeus, who is in the midst of a full-scale comeback attempt helmed by Washington lawyer Robert Barnett. Petraeus has also accepted another teaching job at the University of Southern California.
"There is quite a bit of opposition and resentment and antagonism to the Petraeus appointment," said Michael Busch, who teaches politics at City College and is working towards a doctorate in international relations. "I think that obviously the most immediate point of resistance is Petraeus' role in allegedly overseeing torture in Iraq and and the targeted assasinations as head of the CIA."
"Offering him a plush gig in New York is offensive to people at CUNY," Busch said. "It violates the spirit and mission of a public university."
The flyer has been making appearances elsewhere in the city, not just online. Busch tweeted a photo of it plastered on a Brooklyn-bound subway train earlier this week.
"I'm outraged by the appointment," said Mike Stivers, a sophomore at Hunter College who's also in the honors program at Macaulay, in an email. Stivers, like Busch, cited Petraeus' role as mastermind of the surge in Iraq and his oversight of the growing drone program as counts against him as a professor. "I don't think that Petraeus has a role at the City University of New York, or any other self-respecting academic institution of higher learning."
"As for the general opposition, there is a significant amount of it," Stivers said. "Many students and faculty within the Macaulay Honors College are appalled and even more within the CUNY community as a whole oppose this appointment. Students have already begun tabling and flyering to publicize this."
Stivers complained that the school was foisting an unpopular decision on the student body for political reasons.
"At an initial conversation hosted by the Macaulay Honors College General Assembly, issues were also raised as to the institutional identity that Macaulay administration is assuming - and the identity it is pushing on its students with moves such as Petraeus's appointment," Stivers said. "This represents another enormous step towards the political right for the Honors College, which launched an academic program just last September funded by Neoconservative philanthropist Roger Hertog, appropriately named the Hertog Scholars Program."
Busch noted that Petraeus's role as a visiting professor seems unclear.
"If you read the Times piece that reported on this, it's bizarre," Busch said. "The seminar he was proposing to teach seemed to have no center of gravity."
Petraeus is proposing to teach a seminar called "Are We on the Threshold of the North American Decade?"
In a post on the website of The Advocate, CUNY Graduate Center's newspaper, entitled "The Trouble with Professor Petraeus," left-wing journalist Arun Gupta presents a litany of accusations about Petraeus' role in Iraq and ends on a sarcastic note: "There is much Petraeus can obviously teach about 'international security issues, intelligence matters, and nation-building.'"
Some at CUNY have even started floating the idea that the Petraeus appointment was improperly made.
"Anyone who teaches at CUNY has to fill out and sign a Multiple Position Form, which attests to the fact that he is not doing more than eight hours of work per week outside the university," wrote Corey Robin, a political science professor at Brooklyn College and the CUNY Graduate Center, on his blog after the news came out about Petraeus' second teaching job at USC.
"I'll be curious to see what our newest hire writes on his. Oh well, time for a new sign: Guess Who's Not Teaching at CUNY!" Robin declined to comment further to BuzzFeed.
The university is aware of students' feelings on the subject, it says.
"We're definitely aware of these things, and we take the stance that we always encourage our students and all students in the university and we respect their opinions," said Grace Rapkin, a spokesperson for the Macaulay Honors College.
Rapkin described the process by which Petraeus was appointed.
"The appointment was handled between the dean, the chancellor, and Mr. Petraeus," Rapkin said. "As a prospective faculty member, he was presented to a committee of three CUNY faculty, who considered his credentials and recommended his appointment as Visiting Professor. The appointment was presented to the CUNY Board of Trustees, first to the Executive Committee, and then to the full board."
"There's something that it's really important for you to understand about this appointment," Rapkin said. "Dr. Petraeus brings an incredible background of professional and academic accomplishments to the university."