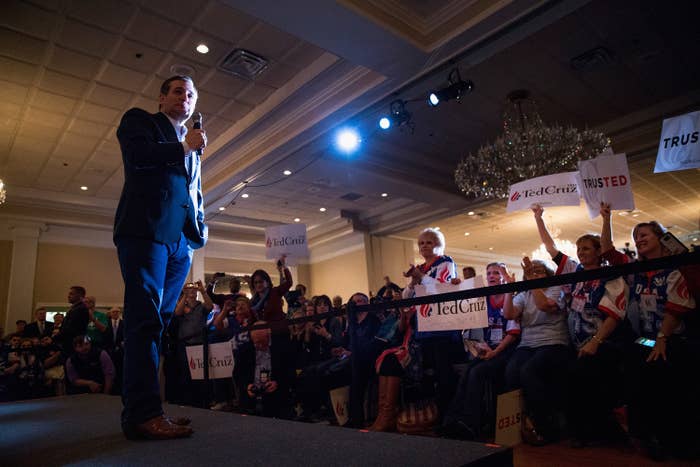 DECATUR, Illinois — Asked about Donald Trump's campaign manager allegedly manhandling a reporter, Ted Cruz told reporters on Monday that physically assaulting a reporter is a "fireable offense."

"Of course it's not appropriate," Cruz said when asked about the issue. "What a bizarre world we're in where reporters are forced to ask the question 'Should political campaign staffers physically assault reporters?'"
"I remember some months ago we were all amazed and joking about the fact the Hillary Clinton campaign used ropes to hold back reporters, to keep them away from Hillary Clinton, and that seemed like the height of disdain from a candidate for reporters and the media," Cruz said. "We never envisioned that it would now reach the levels of allegations of significant physical assault. Physically assaulting a reporter is a fireable offense and at the end of the day, the responsibility for any campaign rests with the candidate."
Trump campaign manager Corey Lewandowski allegedly roughly grabbed former Breitbart reporter Michelle Fields away from Trump at a press conference in Florida last week, leaving bruises on her arm. The Trump campaign denied the incident and Breitbart, where Fields worked, in part defended her — but then ran a piece that cast doubt on Fields' account. Fields and editor-at-large Ben Shapiro quit in protest on Sunday night, accusing Breitbart of having become Trump's "personal Pravda," and more resignations followed on Monday.
Marco Rubio also said earlier on Monday, "If my campaign manager had done that, my campaign would be over. He would have had to resign, and my campaign may be over. I would have had to quit that very day."
Cruz also talked about the Lewandowski incident earlier today on Dana Loesch's radio program, telling her that if a campaign staffer had grabbed a reporter on his own staff, they'd be fired.