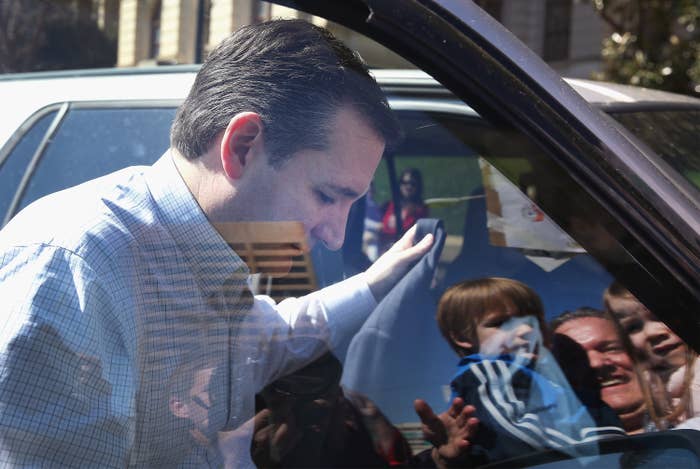 LITTLE ROCK, Arkansas — Ted Cruz released four years' worth of tax returns on Saturday, two days after promising to do so during the debate on Thursday.
He released only the first two pages of his tax returns for each year, though. The returns show that Cruz and his wife Heidi Cruz made $1.2 million in 2014 and paid $442,701 in taxes. They do not indicate how much the Cruzes spent in charitable contributions, and do not show how much of the Cruz family's income has come from Heidi Cruz, a Goldman Sachs investment manager who is currently on leave during the campaign.
Speaking to reporters on Saturday night ahead of a rally hosted here by pro-Cruz super PAC Keep the Promise, Cruz pointed out that he has now released nine years of tax returns total and said after being asked by reporters that he would release the full returns, and not just the two-page summaries, if his rivals do the same. Cruz released his full tax returns for the previous five years in 2012 during his Senate race.
"The first five years, we released the complete tax returns," Cruz said. "The latest four, we released the summary pages really to match what the other competitors have done."

"If Marco wants to release the complete things for the recent years I'm happy to do so as well, and I would certainly encourage Donald Trump to do it, but we just did it to match what the other candidates are doing, this is a competitive race," Cruz said.
Previously on Saturday, Rubio also released partial tax returns. He reportedly said later on Saturday night that he will release his full returns as well.
Cruz said it raises "serious ethical issues" that Donald Trump has not released any tax returns.

Cruz referenced Mitt Romney's suggestion that there could be a "bombshell" in Trump's returns, and speculated that it could be that Trump is "embarrassed" to reveal that he isn't as rich as he says he is, or that he is worried about legal exposure for the years for which he is being audited. (Trump said during the debate on Thursday that he doesn't want to release his returns because he is being audited, though he didn't know exactly which years). Cruz also raised the question of whether there could be "irregularities" or "fraud."
"If he had tax irregularities, if he had any issues of tax fraud," Cruz said. "Hilary Clinton and the Democrats aided and abetted by the press would make it a major issue in the general election."
Cruz also speculated that Trump may have donated to "left-wing organizations."
"It could be that Donald Trump is not nearly as wealthy as he tells everybody he is," Cruz said. "A lot of people, a lot of reporters, a lot of media outlets have speculated that his claims of wealth are vastly inflated."
Asked about whether he has made charitable contributions — something that isn't evident from what the campaign has released — Cruz said, "I've made very substantial charitable contributions." The fact that Cruz didn't tithe in past years became an issue in the run-up to the Iowa caucuses, where Mike Huckabee allies made ads centering around the issue.
Cruz campaigned in Georgia, Alabama, and Arkansas on Saturday and will be in Oklahoma and Texas in the next two days before Super Tuesday, the day that Cruz has cast in heightened terms as the most important day of his entire campaign.
Though Cruz has been criticizing Trump on a regular basis for weeks after spending months avoiding going negative on him, it is Rubio who has gotten the most attention for his Trump attacks in the days since the debate. Rubio, who previously had not laid a hand on Trump, has made fun of Trump's tan, suggested that he wet his pants, and mocked him for misspelling words. Cruz has repeatedly in the past promised not to engage in personal insults with regard to Trump, but he appears to see the tax return issue as a potent way to needle Trump and cast doubt on his integrity.