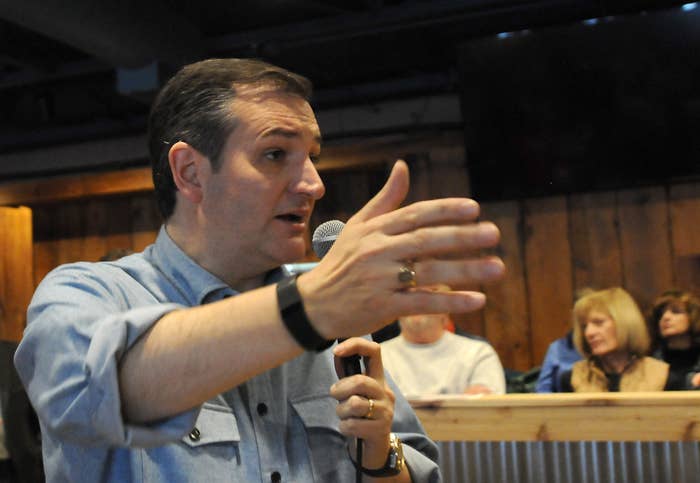 DORCHESTER, S.C. — Ted Cruz said Wednesday night that a Goldman Sachs loan he took out during his 2012 Senate campaign was "public and transparent for many years," and the fact that it was not in a campaign disclosure was a "technical and inadvertent filing error."
Following an event in South Carolina the night before the next Republican debate, Cruz briefly huddled with aides before taking questions from reporters. During the rally, the New York Times reported that Cruz took out two loans — one from Goldman and one from Citibank — during his campaign for Senate that were not disclosed in his campaign filings; the loans were, however, in his Senate financial disclosures.

"Heidi and I, when we ran for Senate, we made the decision to put our liquid net worth into the campaign," Cruz said, and that included a "brokerage account that has a standard margin loan like any brokerage account has, and we borrowed against the stocks and assets that we have under ordinary terms."
"Those loans have been disclosed over and over and over again on multiple filings if it was the case that they were not filed exactly as the FEC requires then we'll amend the filings," he said. "But all of the information has been public and transparent for many years and that's the end of that."
Cruz reiterated that the disclosures had been made, and downplayed the significance of the lack of disclosure, calling it a "technical and inadvertent filing error."

"It is an inadvertent filing question," he said. "The facts of the underlying matter have been disclosed for many years."
Campaign spokeswoman Catherine Frazier said the fact that the loan should have been disclosed had "just now come to our attention," and they are asking the FEC "what their recommended action is."
"This was a loan taken out against his own assets so that he could get through his race, so that he could be competitive 'til the very end," she told reporters.

Frazier said that "there were details that should have been noted in that FEC report that weren't."
"Again, it just came out our awareness that it was supposed to be disclosed. The senator still wrote his own personal check to the campaign," she said.
In recent weeks, Cruz, who is polling well, has increasingly come under attack by Donald Trump and others over his Canadian birth and other matters. After months of not saying anything negative about Trump, Cruz has begun to respond and on Tuesday, knocked Trump's "New York values."
After the media availability concluded on Wednesday night, several reporters asked Cruz what "New York values" are; he ignored the questions.