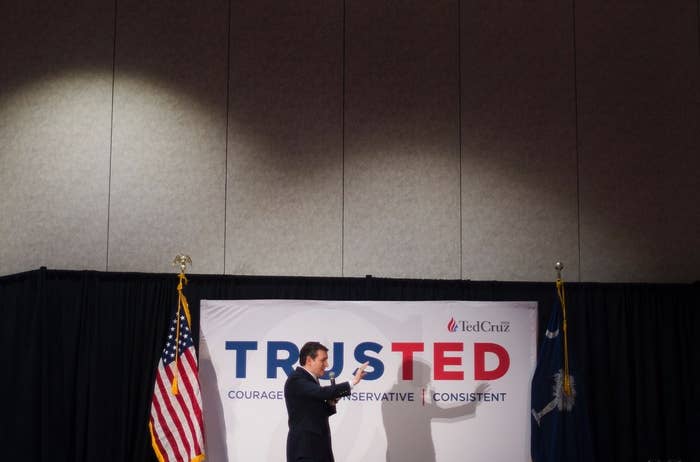 SENECA, S.C. — Ted Cruz revealed that Donald Trump has threatened legal action over one of the Cruz campaign's ads and challenged Trump to sue him in a long press conference — complete with props — on Wednesday.
Speaking in a conference room at a Hampton Inn from behind a table where he had laid out Trump's cease-and-desist letter, Cruz blasted Trump and Marco Rubio for a solid 25 minutes before taking questions from reporters. The conference escalated the messy fight over who is lying that has characterized the Republican primary in South Carolina so far, with Cruz litigating at length the accusations that have been made against him by other campaigns.
"Donald, I would encourage you, if you want to file a lawsuit challenging this ad claiming it is defamation, file the lawsuit," Cruz said.
The Trump campaign's cease-and-desist letter centers around an ad the Cruz campaign made that shows clips of Trump talking about being pro-choice in a 1999 Meet the Press interview that has made the rounds several times already in this campaign.
The letter from Trump's lawyer Jeffrey Goldman states that the ad is "completely disingenuous" and "replete with outright lies, false, defamatory and destructive statements and downright fabrications which you fully know to be untrue." Trump himself has accused Cruz several times of being a "liar."
"The operative words in that ad come from Donald Trump's own mouth," Cruz said.
"In the ad we don't say Donald is pro-choice," Cruz continued. "We simply play video of him saying he is very pro-choice, and he is pro-choice in every respect."
Cruz appeared to relish the idea of litigation with Trump, saying, "One of the things I look forward to most of all is deposing Donald Trump" and that "I may take the deposition myself."
Cruz listed several points he said would provide a defense against Trump's defamation claims, including the fact that Trump has suggested his sister, a judge who is pro-choice, would be a good Supreme Court nominee, and the fact that Trump has donated to Democrats.
During this part of the press conference, Cruz displayed a poster board listing Trump's donations to Democrats.
A few minutes into the conference, Cruz pivoted to Rubio, saying that both Trump and Rubio have frivolously accused him of lying.

"Marco Rubio is behaving like Donald Trump with a smile," Cruz said. The Rubio campaign has accused the Cruz campaign of dirty tricks such as controversial "push polls" and a fake Facebook post attributed to Rubio supporter Rep. Trey Gowdy that claimed Gowdy was switching his endorsement to Cruz.
While Trump holds a double-digit lead in South Carolina, second place is competitive between Cruz and Rubio. Cruz is currently leading Rubio by 1.8 points in Real Clear Politics' most recent poll average.
Cruz said the Rubio campaign was "falsely attributing misconduct to us with no basis whatsoever."
"It's unfortunate, his campaign has not gotten the traction he wanted," Cruz said of Rubio.
Rubio supporters did not let the attacks go unanswered.
"I think [Cruz is] not willing to defend his record by actually looking at the points that have been made and responding to them," said GOP Rep. Darrell Issa, a Rubio supporter who is in South Carolina this week and went to some of Cruz's events on Wednesday.
"If the evidence is building against you and you want to obfuscate it by accusing the other side of lying, that works for a little while, but it's long way to Super Tuesday, and eventually I think Sen. Cruz is going to have to answer specifics about where he stood on these issues, particularly about these things like false accusations about Carson that's already caught up with him," he continued.
And regarding the fake Gowdy Facebook post: "As long as you can determine who they benefit and who they hurt, you can be 99.9 percent accurate that they do come from where they appear to come from," Issa said. "Actions follow who they benefit."
Despite the litany of complaints about his rivals, Cruz said "from the beginning of this campaign we've taken the high road. I'm not insulting anybody here, I am responding with simple facts."

After the press conference, Cruz staffers handed out packets to reporters that contained the Trump campaign's cease-and-desist letter and their lawyer's response.
In the response written by the Cruz side's lawyer Chris Gober, the campaign promised not to back down.
"Your client has no legal basis to demand that our campaign cease airing the ad, and your demand for 'prompt written assurances' that we have pulled the spot will not be forthcoming," Gober wrote. "To the contrary, we now plan to air the ad with greater frequency."