Cruz Holds A Throwback Campaign Event — That Literally Gets Buzzed By Trump's Plane
The Texas senator will speak on Wednesday night in Cleveland. On Wednesday afternoon, it felt like it was February again.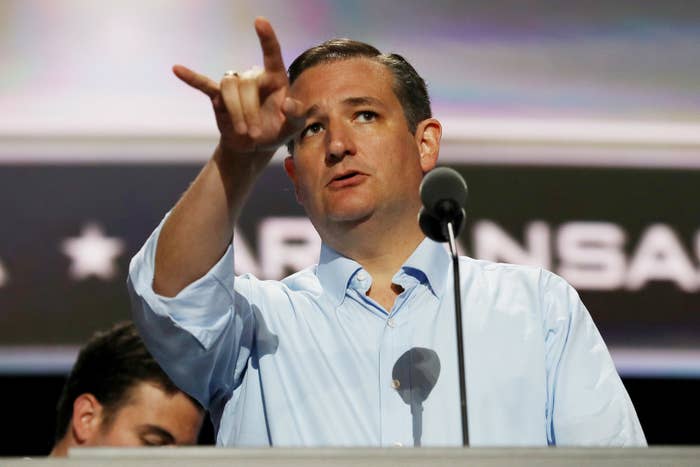 CLEVELAND — For the staffers and reporters at Ted Cruz's event in Cleveland on Wednesday, the moment was a strange trip back in time, to back when Cruz was in a hard-fought primary trying to consolidate support as the last non-Trump candidate.
Cruz's senior campaign staff was all in attendance — including Rick Tyler, his former communications director who was summarily fired in February after sharing an erroneous Facebook post. Cruz's colorful campaign manager Jeff Roe held court with reporters. And Heidi and Ted Cruz appeared on stage together at an outdoor bar here, the same way they did time and time again during the campaign, with Cruz giving a condensed thank-you speech that hit on many of the same themes that undergirded his message this year.
But there was a forceful reminder that the primary was, in fact, over, in the form of Donald Trump's plane, which flew into Cleveland behind Cruz just as Cruz was mentioning "the nominee."
The crowd of Cruz delegates booed loudly right at that moment, and Cruz laughed.
"That was pretty well orchestrated," Cruz joked. "Jeff, did you email them to fly the plane right when I said that?"
Cruz made oblique references to his political future and to his speech at the Republican National Convention on Wednesday, which he may or may not use to offer some level of an endorsement of Trump.
"I don't know what the future holds," Cruz said. "I don't know what's gonna happen, but what I do know, what remains unshakeable, is my faith in the men and women here."
"What I do know is that every one of us has an obligation to follow our conscience to speak the truth, and truth is unchanging," Cruz said. That word — conscience — was a meaningful choice of words, after the extended debate over the last few weeks about whether delegates could vote their conscience for someone other than Trump.
"There's a lot of talk about unity," Cruz said. "I want to see unity and the way to see unity is for us to unite behind shared principles, us to unite in defense of liberty, and for us to empower the grassroots."
Speaking to reporters before Cruz's event, Roe cautioned against comparing Cruz's speech tonight to Ronald Reagan's 1976 convention speech in which Reagan, the runner-up to Gerald Ford, essentially endorsed Ford.
"I think it's a different time," he said, saying people can be "led astray by looking for times in history that really are more incongruent than they are alike."
Roe said Trump and Cruz had spoken on Tuesday.
Roe said of Trump campaign chairman Paul Manafort "we chat all the time," adding Manafort was calling him to talk about some of the delegate maneuvering that took place at the convention in the past few days.
Roe called Cruz's speech a "huge opportunity for him and very nice gesture from the Trump campaign," but declined to give specifics on what will be in the speech. He was unclear on whether it mentions Trump by name, saying, "That's a good question. I don't know if the last draft has that or not. but there's certainly a, uh — I think they'll be pleased with the speech."
Roe also praised Trump for picking Mike Pence as his running mate, calling Pence a "stud" and a "tremendous pick."