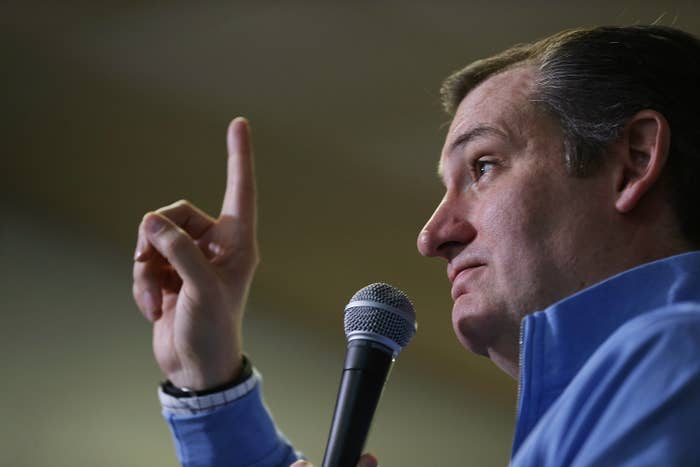 AMES, Iowa — Iowa radio host Steve Deace, a top Ted Cruz endorser in this state, claimed on Saturday that controversial mailers sent to Iowa voters by the Cruz campaign were inauthentic, despite the fact that the campaign itself confirmed they were real.
Deace later acknowledged having erred, tweeting that he "stands corrected" and that, "The mailer that has Team Rubio upset is in fact from the Cruz campaign."
On Friday, Iowa Twitter user Tom Hinkeldey tweeted photos of a mailer his wife received that was marked "VOTING VIOLATION" and listed her name as well as the names of some of their neighbors, with text saying "You are receiving this election notice because of low expected voter turnout in your area. Your individual voting history as well as your neighbors' are public record. Their scores are published below, and many of them will see your score as well. CAUCUS ON MONDAY TO IMPROVE YOUR SCORE and please encourage your neighbors to caucus as well. A follow-up notice may be issued following Monday's caucuses." The mailer was marked "paid for by Cruz for President."
Later, another Twitter user tweeted a photo of the same mailer:
The Cruz campaign confirmed on Friday night to Independent Journal's Sarah Rumpf that the mailers were theirs.
The mailers caused a bit of controversy on Friday night as an especially aggressive example of campaign direct mail. "Shaming people into voting is a great way to get them to vote for somebody else if they decide to do so," RedState's Jay Caruso wrote on Friday.

On Saturday morning, Deace claimed that the mailer was "fake."
Deace also appeared to claim that a quote in the IJ story attributed to Cruz spox Rick Tyler was fake:
Cruz press secretary Catherine Frazier told BuzzFeed News on Saturday morning that Deace "was tweeting because someone had told him that the mailers were fake," but that Deace "is aware of the backstory now."
Frazier reiterated that "we have confirmed that the mailer is ours," and said "these are mailers that have been used by the Iowa Republican Party before as an effective way to turn out voters that haven't showed up."
"We're going to be doing everything we can to turn out Iowans," she said, adding that Iowans are used to receiving lots of mailers.
Deace didn't immediately respond to a request for comment.
Hinkeldey, who originally tweeted the mailer, tweeted at Deace on Saturday, "I want an apology. In my 29 years of life I've never been accused of not being a real human."
Cruz, who often jokes on the trail in Iowa that campaign mailers make good kindling, is trailing Donald Trump in the polls in Iowa two days out from the caucuses.