Cruz Doesn't Rule Out The Primary Becoming A Three-Man Race
He used to talk about it being a two-man race between him and Trump. Now, the day after Rubio performed surprisingly well in Iowa, he said it's a question for the voters to decide.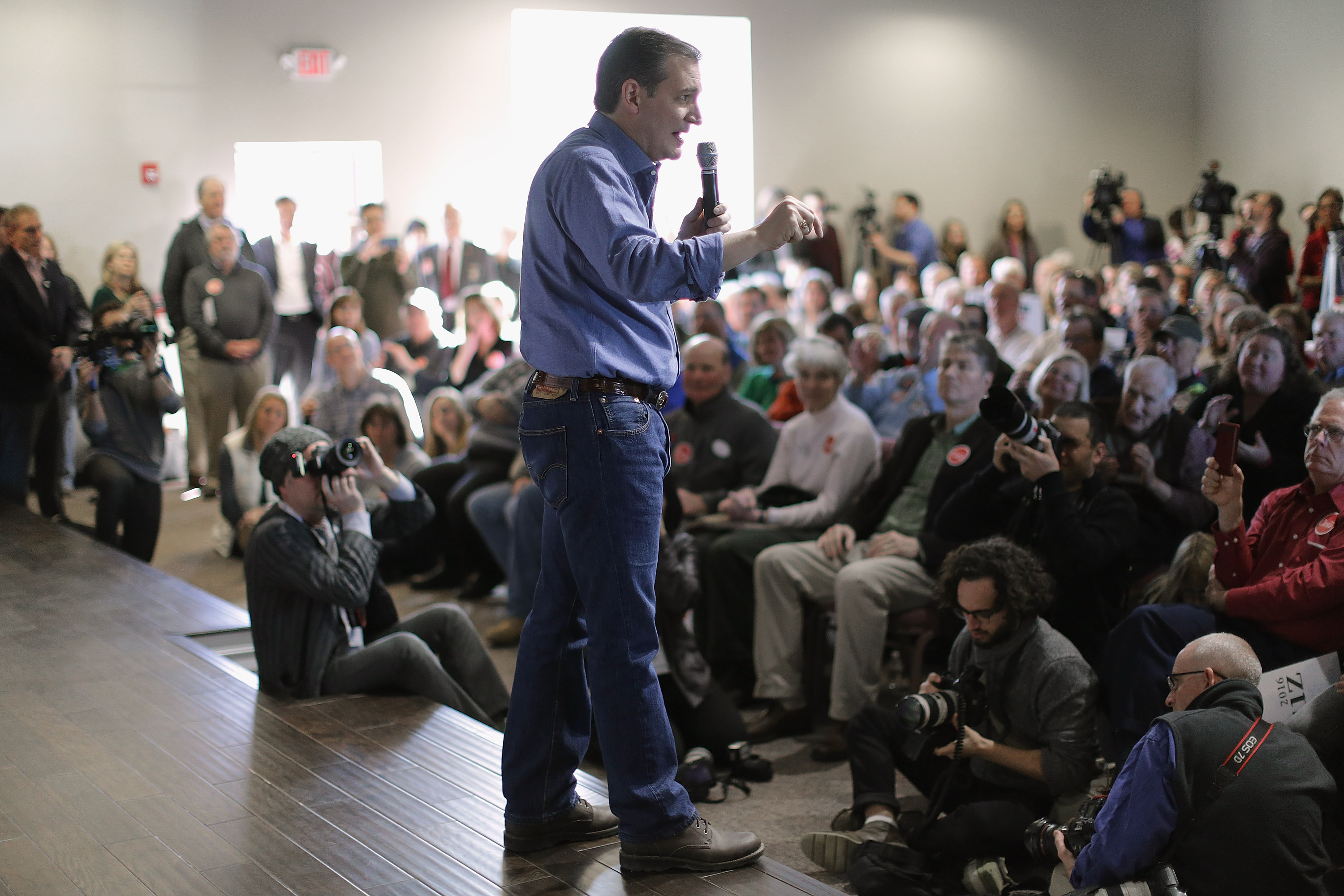 ABOARD THE CRUZ CAMPAIGN PLANE — Ted Cruz, who has repeatedly said that the primary has come down to a two-man race between him and Donald Trump, did not dismiss on Tuesday the idea that it may in fact be a three-man race.
"Well, that's gonna be a question for the voters to decide," Cruz told reporters while flying between New Hampshire and Greenville, South Carolina, on the plane he dubbed "Constitution One," after being asked if the primary is now a three-man race. "That's gonna be a question for the voters in New Hampshire to decide, for the voters in South Carolina to decide."
Cruz pulled past Trump to win the Iowa caucuses on Monday after falling behind his main rival in the polls there. One of the surprises of the night was Marco Rubio's strong third-place showing, which has imbued Rubio with a certain sense of momentum heading into New Hampshire.
Cruz has up until now often spoken of the race as a two-man contest between him and Trump; the change in rhetoric on Cruz's part suggests an acknowledgment of the dynamic shifting.
"Where I'm gonna keep my focus is on my positive, optimistic conservative message," Cruz said. "Last night illustrated that the old Reagan coalition is coming back together. That you're seeing conservatives and evangelicals and libertarians and Reagan Democrats all coming together."
He emphasized that his campaign is in good shape financially coming out of Iowa, in contrast with past Iowa winners Mike Huckabee and Rick Santorum. According to the most recent Federal Election Commission reports, the Cruz campaign has $19 million cash on hand.
"I would note the last two winners of Iowa, both good, principled men, honorable men — both of them came out of Iowa broke," Cruz said. "They didn't have the resources, they didn't have a national team, an infrastructure to compete effectively and be able to win the nomination." He said his campaign was leaving Iowa with almost as much money as Bush, Christie, Rubio, and Kasich — the four main establishment candidates — combined.