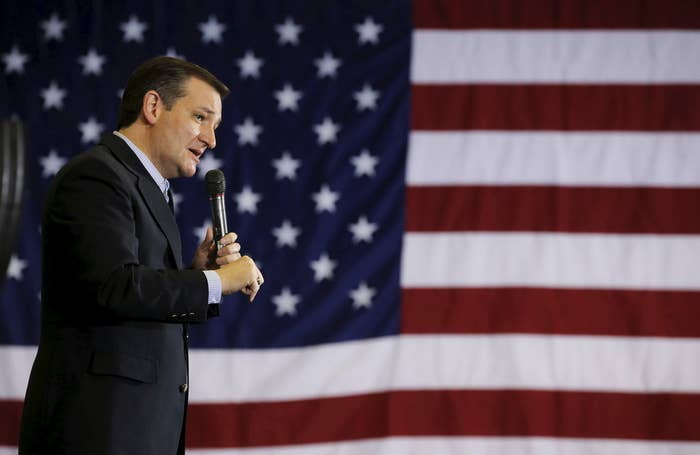 LAS VEGAS — Ted Cruz has asked for the resignation of his communications director, Rick Tyler, after Tyler shared a false report about Marco Rubio, Cruz told reporters on Monday.
"I've spent this morning investigating what happened," Cruz said. "And this morning I asked for Rick Tyler's resignation. I have made clear in this campaign that we will conduct this campaign with the very highest standards of integrity. That has been how we've conducted it from day one."
Tyler had shared on social media a report that purported falsely that Rubio had made a negative comment about the Bible to a Cruz staffer. He later apologized to Rubio on Facebook, saying, "I assumed wrongly that the story was correct. According to the Cruz staffer, the senator made a friendly and appropriate remark."
The incident comes as accusations of "dirty tricks" have become a central narrative about the Cruz campaign over the last couple weeks. Cruz's rivals have accused his campaign of a string of underhanded maneuvers; Cruz responded to the accusations in a lengthy press conference last week. Cruz has apologized directly to Ben Carson for his campaign's suggesting to Iowa voters that Carson was dropping out ahead of the caucuses.
"Rick Tyler's a good man; this was a grave error of judgment," Cruz told reporters on Monday. "It turned out the news story he sent around was false, but I'll tell you even if it was true, we are not a campaign that's gonna question the faith of another candidate. Even if it was true our campaign shouldn't have sent it — that's why I've asked for Rick Tyler's resignation."
Cruz said that he had not met or spoken with Rubio on Monday, contrary to a report circulating on Twitter that he had.
NBC reporter Katy Tur said on Twitter that Tyler had been scheduled for a live hit on MSNBC but "abruptly left":
Tyler didn't immediately respond to a request for comment.