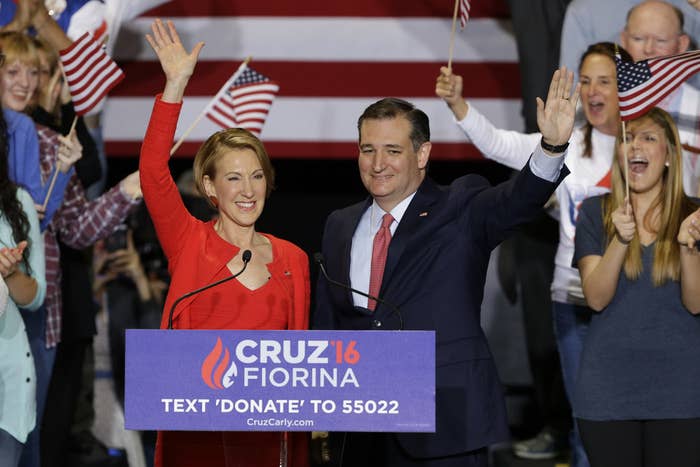 INDIANAPOLIS — As the Republican primary goes into its end game with Donald Trump looking likely to clinch the nomination before the convention, Ted Cruz is running out of time to change the course of the race — and on Wednesday, he tried to do that by naming Carly Fiorina as his running mate.
His unusual announcement — candidates generally don't announce a running mate until after they've become the nominee — signals how crucial a moment this is for the Cruz campaign. Cruz is going all-in on the Indiana primary next week that is a must-win to keep Trump from steamrolling his way to the necessary number of delegates to clinch the nomination. And five overperforming Trump wins on Tuesday night have made his nomination seem more likely than ever, making it necessary for Cruz to try and wrest control of the news cycle.
Trump reacted in a statement soon after the announcement was made, calling it a "desperate attempt to save a failing campaign."
"After massive defeats in Arizona, New York, Pennsylvania, Rhode Island, Delaware, Connecticut and Maryland, (in addition to twenty other contests) and given the fact that Senator Cruz has millions of votes less than me and is being clobbered on the delegate front, this is a pure waste of time.

It reminds me very much of the already failed Kasich 'collusion' ­a desperate attempt to save a failing campaign by an all talk, no action politician. The people of Indiana are very smart ­and they will see through this just like they saw through the already failed Kasich alliance. Cruz has no path to victory — he is only trying to stay relevant."
Unlike Fiorina's endorsement of Cruz in Miami in March, which took the political press by surprise, her being picked as his running mate was widely assumed as soon as it came out that she was being vetted for the position. And the idea had clearly been in the works for some time. On Wednesday, the crowd in downtown Indianapolis already had signs printed with the new "Cruz Fiorina 2016" logo on one side, "Cruz Carly 2016" on the other. And this was even before Cruz had said the magic words: that if he is nominated, he will run with Fiorina on the ticket to be vice president. Plus, the Cruz team had been open about the fact that it was vetting people weeks ago, and the new website, CruzCarly.com, was registered on Monday.
At the rollout event here, nearly all of Cruz's senior staff was present, and Cruz wore a suit as opposed to his typical trail wear of jeans and a blazer or sweater. The campaign made the most of the moment, which took place in Indianapolis' Pan Am Pavilion in front of a crowd of a few hundred; Cruz spoke for close to 30 minutes, maximizing the event's exposure on TV, while Fiorina took the stage and spoke (and even sang a bit) for nearly 20.
Both Cruz and Fiorina's speeches focused heavily on Donald Trump, with Cruz referring to the frontrunner as a "no-good scoundrel," a "narcissist," and "abusive and angry."
"He does not represent me and he does not represent my party," Fiorina said of Trump. Cruz mentioned Fiorina's having taken on Trump during a primary debate after Trump had made disparaging comments about her appearance — another indication of why Fiorina was chosen. Both Cruz and Fiorina repeatedly drew parallels between Trump and Hillary Clinton, a major theme of Cruz's criticism of Trump. Even before Wednesday, Cruz has often highlighted Fiorina's contrast with Clinton on the trail, frequently saying that Clinton would be terrified of Fiorina.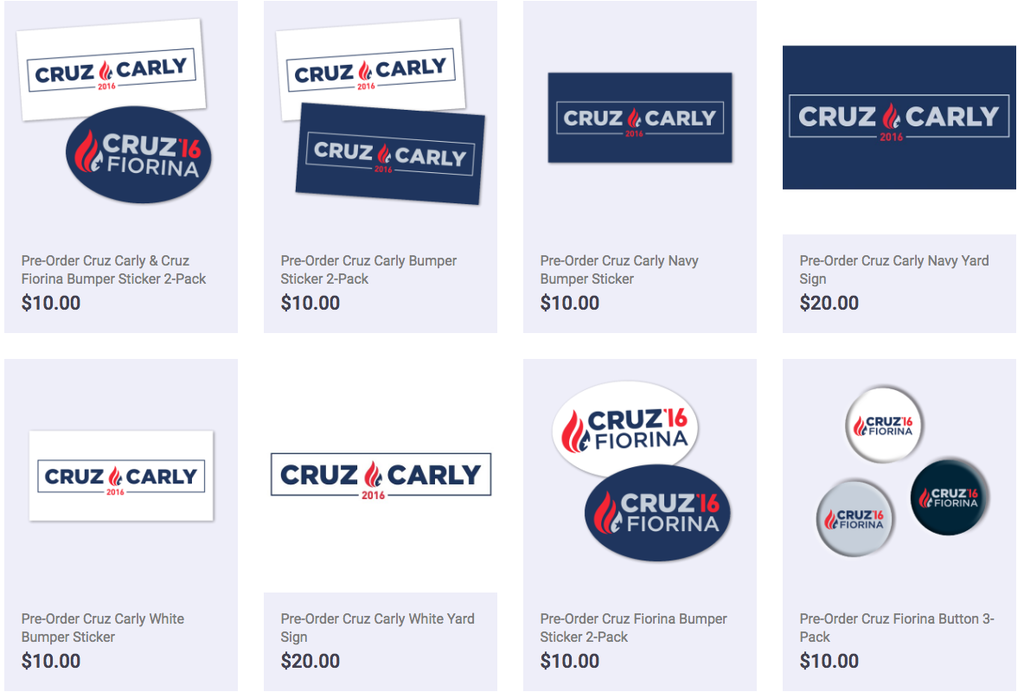 That's not the only rationale in the decision to add her to the ticket. Even if the move does not give Cruz the biggest boost possible in Indiana, she could help Cruz in California's primary on June 7, where Cruz will again be trying to take as many delegates as he can away from Trump. Fiorina ran for Senate there in 2010, though she lost. And the fact that Fiorina is a woman will throw into relief Trump's significant unpopularity among women, a statistic that is frequently cited as one of the reasons he would be unlikely to win in a general election. And Fiorina, who was the first former candidate to endorse Cruz, has been campaigning with him for weeks already and knows the drill. She's even been known to jump in and answer questions on Cruz's behalf during gaggles with him.
(Fiorina is also a favorite of one of Cruz's main financial backers, Robert Mercer; Mercer, who has spent millions supporting Cruz via his super PACs, also donated to Fiorina's super PAC when she was running. Cruz's super PAC gave $500,000 to Fiorina's super PAC last year.)
But the risk is that Cruz's move will be interpreted by voters as a desperate move by a losing campaign. And if Cruz does become the nominee, he'll be beholden to a decision he made during a tense primary fight just when he needs to formulate a strategy for the general.
Cruz is continuing to campaign hard in Indiana, holding three events tomorrow in the northern part of the state. His campaign and the Kasich campaign have made a deal in which Kasich is ceding Indiana to Cruz and Cruz is ceding Oregon and New Mexico to Kasich in an effort to keep Trump under 1237 delegates, with both of the non-Trump candidates now acknowledging that they will not reach that number.