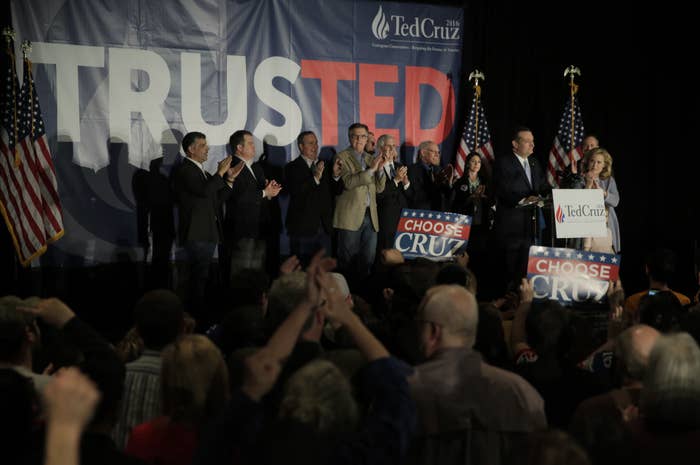 COLUMBIA, S.C. — Ted Cruz's campaign manager Jeff Roe said the "top tier" of the race has winnowed to three people and previewed a path forward out of South Carolina in an 20-minute gaggle with reporters on Saturday night.
Roe gave a preview of the campaign's thinking going forward, and spun the disappointing finish in South Carolina on Saturday, arguing that the campaign is still primed to do well in the March 1 "SEC primary" which includes several Southern states, among them Cruz's home state of Texas. He signaled shifts in the campaign's tactics as the contest spreads out and becomes more of an air war.
"As it goes to a national race, I mean, the construct of the race just changes," Roe said. "It becomes national messaging, it becomes more national fundraising, and your voter communication becomes a little bit different, too. So I think you'll see edits in the way we campaign just because of the way the states are structured versus a national campaign and that's why we're gonna have one of the biggest delegate nights in the calendar, is going to be in 10 days. So the whole race shifts."
"We might have a couple of surprises tomorrow" in terms of messaging, Roe said.
Though Cruz surrogates at Cruz's election night party on Saturday continued to insist that the race is still a two-man race despite Marco Rubio's performance here, Roe didn't say that.
"I've never said how many people it was," Roe said. "It's clear that here's a top tier and a lower tier and I'm not sure who if anyone else has any announcements tonight that I missed … it's clear the top tier, there's three people, we call it three wide going into Talladega."
Despite his appeal to evangelicals and focus on the South, Cruz came in a disappointing third (though close behind Rubio) on Saturday. The result raises questions about the "firewall" of the March 1 states that Cruz has touted, especially since Donald Trump, who won by a wide margin, also won among the evangelical voters Cruz courts.
Roe, who has a reputation as one of the most hard-nosed political operatives in the industry, said that every single vote had been contested.
"Here's what happens: When you are in a small state, crowding up against each other, you're fighting five people by their names," he said. "I mean we fought over hand to hand with people's names. Like we know the names we were fighting for … we knew there were 79,000 people choosing between us and Trump in the last four days. We were calling them. We know their names."
Though Cruz said in the past that Trump would be "unstoppable" if he won Iowa, and Trump has now won two of the early primary states post-Iowa. Roe brushed off any suggestion of Trumpian inevitability.
"I don't think anybody in the 30s is unstoppable," he said.
Roe also suggested that the departure of Jeb Bush from the race could benefit Cruz, despite there not being much apparent overlap between Bush and Cruz voters (and the fact that another dead-end campaign that directly affects Cruz — Ben Carson's — is still ongoing).
"We get some of Jeb's votes we get some of Jeb's money," he said. "The Bushes are from Texas, as I understand it."