Corker: Ukraine Could Be The Next Georgia
"What you see happening in Ukraine brings back those memories."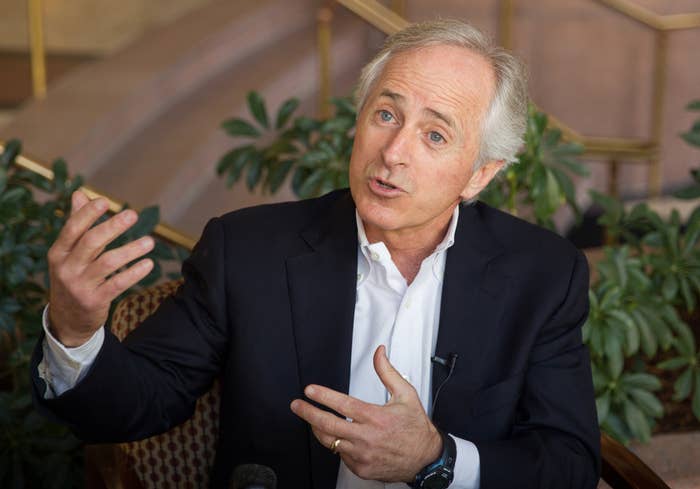 WASHINGTON — Sen. Bob Corker fears that the situation in Ukraine could devolve into a "replay" of the 2008 Russia–Georgia war and thinks the United States must do something that shows its military strength in the region as a message to Russia.
"I was the first U.S. official to fly to Tbilisi when Russia went into Georgia, and the first official to go up to Gori and witness the bombings and what Russia had done with their tanks and other artillery," Corker, the ranking member of the Senate Foreign Relations Committee, said in a breakfast meeting with reporters on Thursday. "What you see happening in Ukraine brings back those memories."
"I know there's been reports that Russia is actually printing up passports — if you remember, that's exactly what they did in Georgia," Corker said, referring to Russia's Duma's debating a plan to give passports to ethnic Russians in eastern Ukraine.
"I continue to be concerned that we're going to see a replay of what we saw in Georgia because I think their interests there candidly are even more important to Russia than what's the case, certainly, in Georgia," Corker said.
The Russian military has been carrying out drills along its border with Ukraine, stoking fears that the Russians could be planning a military intervention. Tensions have risen in the country's pro-Russian east since the flight of former President Viktor Yanukovych from Kiev.
"The question will be, can the West act quickly enough but also responsibly to deal with the financial issues that exist there?" Corker said.
"And in the interim can we make those proclamations, statements — can we show strength in the region to try to deter Russia from doing other things that are either soft partitioning of the country or, candidly, doing something more aggressive militarily?" Corker said.
Corker said that a staffer of his had proposed a display of U.S. military strength in the region to send a message to Russia — "some new strategic relationship with Poland, or doing something that shows, and I'm talking about militarily, doing something that shows that we have strong interests in the region, that we stand by the region."
Corker criticized the administration for dealing with the Ukraine crisis "as with so many other foreign policy crises, it seems like we're dealing with events ad hoc, as they move along."