Conservatives Set Off On Michigan Bus Tour For Santorum
Meet the pro-life Susan B. Anthony List's Roadshow.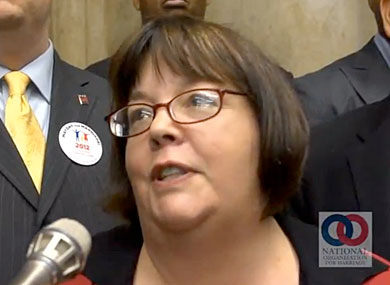 A group of well-known social conservative figures are going on a bus tour to support Rick Santorum in Michigan. For a full six days, a group that includes National Organization for Marriage founder Maggie Gallagher and Gary Bauer will travel through Michigan, holding events to campaign for Santorum and carry out a "pro-life grassroots mobilization effort."
"Among the field of strong pro-life candidates in the GOP primary, Rick Santorum stands out as a proven leader. None of the candidates have the record of consistent leadership that Rick Santorum has demonstrated on these key issues," said Rep. Marilyn Musgrave, Project Director at SBA List.

WHO: Marilyn Musgrave, Vice President of Government Affairs at SBA List and former Member of Congress from Colorado
Maggie Gallagher, Director of Culture War Victory Fund and co-founder of the National Organization for Marriage
Brian Burch, Founder of Catholic Vote
Gary Bauer, President of Campaign for Working Families
Colin Hanna, Let Freedom Ring
Local Michigan leaders

WHAT: Michigan social conservatives press tour and mobilization campaign
The Susan B. Anthony List, the anti-abortion group that is backing the bus tour, recently endorsed Santorum.