Conservatives, Obamans, Occupiers And Freaks Mix Outside Debate
"If I was contacted by the Gary Johnson people I would have gone with them."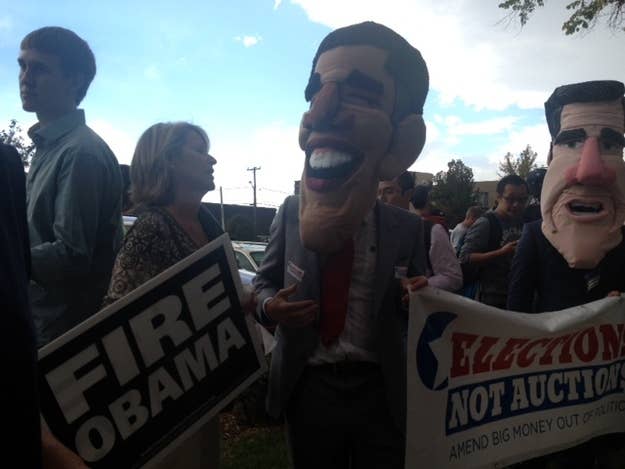 DENVER, Colo. — Hundreds of people gathered to rally outside the first presidential debate, lining several blocks outside the University of Denver on Wednesday night. First, there were conservatives armed with "Fire Obama" signs provided by FreedomWorks; then a small band of Gary Johnson supporters, angered that their candidate wasn't given a spot on the debate stage; and hot on their heels (literally forcing the Johnson crowd a block down the street), a huge throng of Obama supporters wearing matching neon-green t-shirts, chanting "Fired up, ready to go!" over and over again.
This looked at first like three irreconcilable groups of people. But there was overlap: some Gary Johnson supporters were hidden in the crowd of Obama fans. And some occupiers were hidden in plain sight all over the place.
"I was contacted by the campaign," Padideh Aghanoury, a high school junior from Denver, said. She had on one of the Obama shirts. Her
friend Bronwyn Westgate, also a junior, said "the campaign asked us to volunteer."
"But if I was contacted by the Gary Johnson people I would have gone with them," Aghanoury said.
One of the Gary Johnson fans yelled "He's getting 15%! He should be on stage!" Aghanoury chimed in: "He deserves it, he really does!"
She was there with a group of other girls from Denver-area high schools. One of them got into a discussion with Shana Duffy, a Johnson supporter from Colorado Springs.
"We're scared to vote for a third party!" the girl said.
Duffy explained that the Johnson contingent had been loosely organized on Facebook.
"It had nothing to do with the campaign," Duffy explained. "There were a couple events on Facebook, but these guys aren't even the ones I was
trying to meet up with."
Her group was mostly young and mostly male. A young Obama supporter with "Forward" written on his arm leaned into one of the Johnson people as his group connected with theirs on the sidewalk.
"Man, I was in Occupy too," he said. "But we can't let Romney win."
A handful of Occupiers with 99% buttons moved stealthily through the crowd, but didn't make much of an impact.
Meanwhile, the FreedomWorks crowd was getting edged down the street.
Dawne Murray, a CPA from Denver, didn't mind.
"It's great, it's fun," Murray said. At one point she hammed it up for her friend's camera, taking a picture with a protester in a huge Obama mask.
"It's a little disappointing to see so many young people follow Obama, though," Murray said.
As for the Johnson group, "I think it's a lot of Ron Paul supporters who are irritated with how things are," she said.
Moving down the block back towards the university, the scene got more heavily Republican. But it didn't lose its bizarro edge.
A man in a New York Yankees jersey who would only give his name as "Captain America" shouted to a group of three toddler girls passing by with their mothers.
"9/11 was an inside job, kids, don't let 'em fool ya!" he said.
He handed BuzzFeed a flier about 9/11 Truth and yelled "Jesse Ventura 2016!"