Conservative Voters On Romney: He's Still Too Nice
Romney builds a new line of attack around "You didn't build that." "He needs to get tougher. "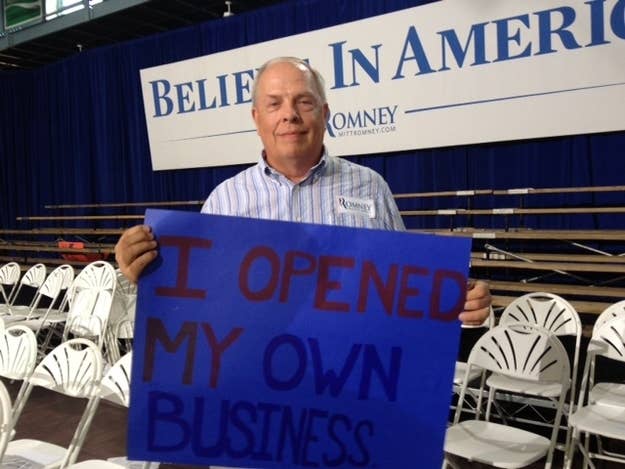 BOWLING GREEN, Ohio — Mitt Romney did his best to satisfy the conservative Republicans who turned out to see the newly combative candidate here in Northwest Ohio, but a day after a surrogate questioned President Obama's very American identity, Romney left them wanting more.
Romney debuted a set of attacks today in Bowling Green, based around President Obama's suggestion that business owners "didn't build" the entirety of their businesses: Romney suggesting in turn that Obama is "out of touch" with America.
It was the beginning of the Romney campaign's rollout of new jabs designed to appeal to grassroots conservatives, and audience members approved — but many thought he needed to be even tougher.
"I don't think he was tough enough," said Barbara Sass, 70, a retiree from Toledo. "He's too nice."
Wayne Michaels, 67, a retired orthodontist from Bowling Green who held an "I Opened My Own Business" sign throughout the rally ("Those are fun signs," Romney said of the ones he could read in the audience), teared up out during an interview with BuzzFeed, swept up in emotion after Romney's speech.
"I'm really pleased that he's started to be more aggressive," Michaels said. "He was too nice in the beginning."
Michaels said that he wanted Romney to keep the campaign "clean," saying Obama wasn't running a "factual campaign."
Of Obama, Michaels said "He has his own best interests at heart. He is out of touch with America," echoing Romneys line.
In his speech, Romney used the word "foreign" more than once in relation to Obama, without directly accusing him of foreignness — for example, saying that Obama's not celebrating individual success is "so foreign to us, we can't even understand it."
He also said that Obama was "out of touch with the character of America" and that he was "trying to tear America apart."
But Romney resisted being pulled past that point, telling a woman who called Obama a "monster" that "I wouldn't use that term."
For the audience, which cheered and gave Romney multiple standing ovations throughout, the message was a start, if a bit mild for their tastes.
Rosann Kaiser, 57, said that Obama's "You didn't build that" remark was "bullshit."
As for the newer, more aggressive Romney, "he needs to get tougher than that."
"If you look at [Obama's] background, he was not raised like the typical American," Kaiser said. "I was raised on a farm, we were taught common sense, we were taught work ethic."
Brian Binkley, a software developer from Ada, Ohio, also referred to the president's upbringing as a liability.
"You can tell based on what Obama's done already in terms of what he's said and done, he's said certain things that make it seem like he's out of touch with America."
"Obama's been in many places throughout the world, so I can understand how he'd say it would be a foreign perspective in some ways," Binkley said.
The perception that Obama is un-American is common among grassroots conservatives, a fact that's not lost on the Romney campaign, representatives of which told BuzzFeed's McKay Coppins yesterday that the candidate's message from now on would include more attacks on the president's character and past — a response to weeks of withering attacks on Romney's own past.