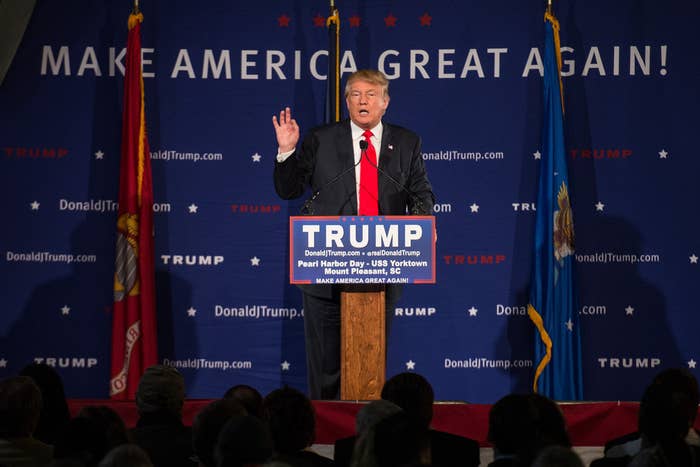 WASHINGTON — Conservative talk radio hosts didn't endorse Donald Trump's proposal to ban Muslim immigration on Tuesday — but they certainly didn't condemn him and almost uniformly refrained from criticizing him or his plan.
Talk radio heavyweights Laura Ingraham, Rush Limbaugh, Sean Hannity, and Mark Levin showed different levels of sympathy for Trump's idea on Tuesday. These hosts, who boast large audiences of conservative listeners, have been pro-Trump to various degrees for months, and have been the most significant media engine behind Trump's startling rise, echoing and reinforcing Trump's rhetoric, particularly on immigration.
Ingraham, first up in the rotation, showed the most outward skepticism of Trump's proposal on Tuesday.
"In this case he didn't need to do this, he didn't need to say this," Ingraham said. "It hurts the cause of populism and nationalism for someone to approach it in that way."
"The establishment has no credibility," Ingraham said, and "Bush and Rubio are not going to go up as a result of Trump's comment." But Trump "lit a Christmas candle with a flamethrower, you don't need to do that. Cruz's approach is a better one, Rand Paul's approach is probably a better one." Cruz has proposed legislation banning refugees from countries that contain territory controlled by terrorist groups, like Iraq and Syria, and Paul has proposed a bill that would halt immigration from over 30 countries with "high risk" of terrorism.
Ingraham said instead of a pause in Muslim immigration, she supports "a pause on immigration period coming into this country."
Limbaugh, for his part, didn't criticize Trump for his comments, though he didn't specifically endorse the content of Trump's proposal. Instead, he gave an extended soliloquy about Trump's relationship with the media and with his party's establishment.
"You Republicans, you can denounce Trump all day, all week, all month, and the Democrat Party and the media are still gonna say you laid the table for it," Limbaugh said. "You can condemn Trump all you want, but it is not going to buy you any love or respect or admiration from the drive-by media and the Democrats. Now, folks, the conventional wisdom is that Trump is scum, that Trump is a reprobate, that Trump is dangerous, that Trump is obscene, Trump's insane, Trump's a lunatic, Trump's dangerous, Trump's got to go. Why join in with that phrase? Why join that crowd? We never fall in with conventional wisdom here."
Without directly addressing the content of Trump's proposal, Limbaugh praised Trump for his political positioning.
"I'm just addressing the politics of this, folks," Limbaugh said. "Forget substance, comments, whatever. It's the politics of this. There's only one guy in all of the presidential campaign occupying the position he occupies. Everybody else sounds the same."
Hannity also appeared basically sympathetic to Trump's idea without stating outright that he agrees with it.
"So there is a cultural divide," Hannity said. "If somebody from a country that practices sharia, wants to come to America, do we have a right to know and to vet whether or not they are bringing values that are contradictory to our constitutional republic?"
Hannity also implied that the media had distorted Trump's comment.
"Until, he said, we are able to determine and understand the problem and dangerous threat that is posed to our country, we cannot be the victims of horrendous attacks by people who believe only in jihad and have no sense of reason and respect of human life," Hannity said. "He's calling for a complete shutdown of Muslims entering the country until our country's representatives can figure out what's going on. That was the initial statement. if you read the liberal media, it's 'Donald Trump wants to ban all Muslims!'"
And Mark Levin, in the evening slot, had nothing bad to say about Trump's proposal, which he described as "limiting access to this country, immigration of Muslims into this country for what he has said is a temporary period of time till we figure out what's going on — in other words, to ensure we have the processes in place." Levin did say that he would not have proposed Trump's proposal, but instead prefers Rand Paul's.

"Shouldn't we at least have a discussion about Islam?" Levin asked Ted Cruz, who he was interviewing on the air. "'We're not talking about the overwhelming majority of people who are Muslims, we're talking about a discussion of what it is that drives these people. Why can't we even talk about it?"
Levin also criticized Lindsey Graham, who has vehemently condemned Trump for his proposal, calling him a "goober" and a "weasel."
Trump's statement has roiled the Republican primary, with several of his rivals and others in the GOP condemning him while others, like Cruz, have taken pains not to publicly criticize him.
UPDATE
Updated to add that Levin said he would not have proposed Trump's proposal.