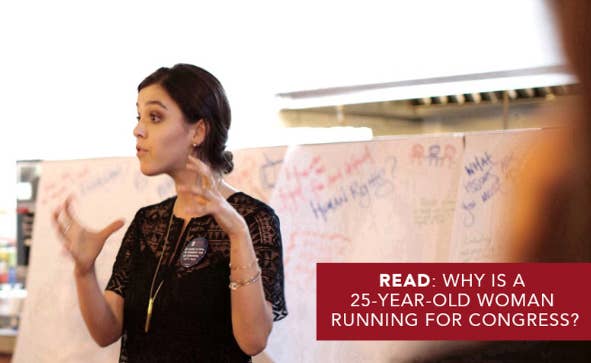 WASHINGTON — Online anti-Semitic abuse has been on the rise this year, with many Jewish journalists and public figures becoming the targets of hate, often from self-identified Trump supporters.
Now, a congressional candidate in California is being targeted by anti-Semites.
Erin Schrode is a 25-year-old Democrat running an underdog campaign to unseat Rep. Jared Huffman in California's second congressional district. Schrode said commenters on the Daily Stormer, a neo-Nazi blog, posted her cell phone number and personal email, and said she had received a "deluge" of anti-Semitic abuse this week — and that she ultimately had to alert law enforcement to the matter.
The harassment began after several outlets profiled Schrode, who would be the youngest member of Congress if elected. California's primary is coming up on Tuesday.
The harassment has been mostly online, Schrode said, though after her cell phone number was posted, she received a voicemail that was just the sound of someone hissing.
"Get out of my country, kike," reads one message Schrode received. "Get to Israel where you belong. That or the oven. Take your pick."
A post on the Daily Stormer, run by white supremacist Andrew Anglin (who has endorsed Trump), compares Schrode to a "disgusting hissing weasel." The comments include several anti-Semitic caricatures and several of the trolls refer to Schrode as "it."
Schrode said she had been advised to contact local law enforcement by a friend who is a security professional, and that "The FBI was contacted by multiple people on our behalf. I have been told that their local (California/San Francisco) offices have been made aware." Schrode said she spoke with two local police officers on Saturday but that she is not filing a police report, because " local police confirmed that the FBI are the ones who should handle this type of threats. The local police will do extra patrols in the area. And they are well aware, should anything occur here."
An FBI spokesperson did not immediately return a request for comment.
"It's an attack on decent citizens," Schrode told BuzzFeed News in a phone call, saying there's "more and more anti-Semitism this election cycle."
It's "certainly not what I want to be dealing with four days before our primary, nor ever, for anyone for that matter," Schrode wrote in an email.
The Anti-Defamation League has launched a task force to investigate anti-Semitic harassment against journalists, an issue has become more pronounced and widespread as the election cycle has progressed. Conservative journalists have posted for months about the vitriol they've received; writer Julia Ioffe had to file a police report after being inundated with it when she profiled Melania Trump; and New York Times editor Jonathan Weisman was similarly inundated after posting an essay by Robert Kagan arguing that Trump is a fascist.
"The anti-Semitic hate, much of it from self-identified Donald J. Trump supporters, hasn't stopped since," Weisman wrote in the Times. "Trump God Emperor sent me the Nazi iconography of the shiftless, hooknosed Jew. I was served an image of the gates of Auschwitz, the famous words 'Arbeit Macht Frei' replaced without irony with 'Machen Amerika Great.'"
Trump has largely declined to condemn anti-Semitic abuse. Asked about the harassment of Ioffe, Trump told Wolf Blitzer, "I don't have a message to the fans" last month.
Many of the attacks come from members of the newly empowered alt-right, a mostly online white nationalist movement that has been energized by Trump's rise.