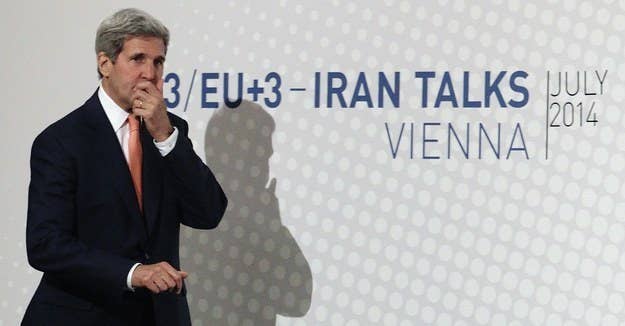 WASHINGTON — A top Obama administration official on Tuesday wouldn't promise the the Iran nuclear negotiations will end by the new deadline — an admission that is sure to anger many in Congress who are losing patience with the talks and worry that one extension will lead to another.
"I have learned in negotiations that it is very difficult to say what will happen at the end of any given period of time," the United States' lead negotiator in the talks over Iran's nuclear program, Wendy Sherman, said during testimony before the Senate Foreign Relations Committee on Tuesday when asked if she could guarantee that the negotiations would end one way or another by the new November deadline. "If you had asked me where we would be at the end of this six months that has just preceded, I would have been hard to predict that we are exactly where we are today. Our intent is absolutely to end this on November 24th in one direction or another."
The negotiations, which were scheduled to come to a conclusion on July 20 in Vienna, were extended after Iran and the world powers with whom it negotiates failed to come to a final deal agreement. They negotiated an interim deal last November in Geneva.
Sherman promised to keep Congress in the loop during this period of extension. The administration's interactions with hawks from both parties in Congress over the Iran negotiations have been largely testy, with ; at one point the White House even accused those who supported sanctions of secretly being for war.
"What I can say to you is that we will consult Congress along the way," Sherman said. "I greatly appreciate that Congress has permitted classified briefings during active periods of negotiation to maintain whatever leverage we have. We will continue those classified conversations. And when November 24th comes, whatever decision we make will be a joint one with the United States Congress."
Senator Bob Corker, the highest ranking Republican on the Senate Foreign Relations Committee, told BuzzFeed he is concerned about the possibility of more extensions after this one, and worries that Congress was not going to be able to be a "backstop" to the talks.
"I don't think there's any appetite on the Hill for extending the negotiations and to the extent that you even leave that as an option you lessen the likelihood that you're going to complete by then," Corker said. "[Sherman] also made mention that they were gonna have conversations with Congress regarding what happens, but I think it's pretty evident their intentions right now are to do whatever they're going to do."
"As long you're leaving open the possibility of an extension, you end up potentially going down the path hat all of us have been concerned about, and that is a series of rolling interim agreements," Corker said.
Mark Dubowitz, an Iran sanctions expert and executive director of the hawkish Foundation for the Defense of Democracies, said the administration will likely have to compromise on some form of more intense sanctions if a deal is not struck by November 24.
"The administration cannot agree to yet another delay without movement on new sanctions," Dubowitz said. "This will be politically unsustainable on the Hill and, as importantly, a delay without additional leverage will put US negotiators in an even weaker position to persuade Iran to reach a comprehensive deal."
But for now, the sanctions bill authored by Senators Mark Kirk and Bob Menendez that could potentially pass new sanctions against Iran during the negotiations is stalled, though its supporters have renewed calls for it to come to a vote in the wake of the talks being extended earlier this month.
"If Under Secretary of State Wendy Sherman and her team fail to get Iran to agree to a deal that is absolutely comprehensive, airtight, long-lasting, verifiable, and enforceable, Congress will need to do what we should've done all along — pass the Menendez-Kirk sanctions bill to impose crippling economic pressure on Iran and to stop Ayatollah Ali Khamenei from getting a nuclear bomb," said Kirk, one of the most hawkish members of Congress on Iran.