Clinton Brought Women's Rights In From The Diplomatic Margins
"The whole range of soft issues were regarded as kind of second class pursuits" before Clinton. Will the change last?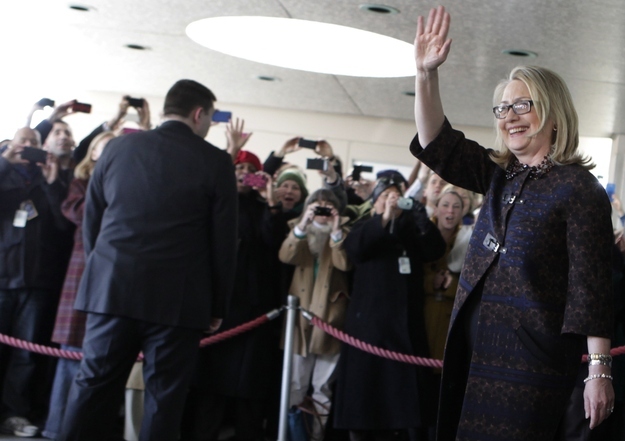 The most striking legacy of Hillary Clinton's four years at the State Department is an institutional shift in the way international women's rights are viewed, and a sense that the place of women and girls in a range of societies proper subject of high-level diplomacy.
"What Hillary did that was unprecedented was to put [women's issues] in the center and not have it be a box-checking thing, and for women profesionals that's been a hard thing to do," said Heather Hurlburt, director of the National Security Network and a former staffer in Madeleine Albright's State Department. "There's a fear that you would be defined as a women's issues person."
"But Hillary was fearless about taking up women's issues," Hurlburt said, "and the fact that it's now such that a male Secretary of State will have to maintain the initiatives that she institutionalized at State — it won't just be the project of a woman Secretary of State anymore."
Clinton was known for meeting with women's rights activists and organizations during her travels abroad, as well as environmental groups, anti-poverty NGOs, and other things that make up a sector of foreign policy that former diplomat Aaron David Miller calls "planetary humanism." Clinton's ambassador for global women's issues, Melanne Verveer, traveled to over 60 countries on women's rights-related missions, according to the Washington Post.
In interviews and speeches, she's returned to the theme over and over again, including in her farewell address to the Council on Foreign Relations on January 31: "If women and girls everywhere were treated as equal to men in rights, dignity and opportunity, we would see political and economic progress everywhere," Clinton said.
"The nature of diplomacy has changed so much," Hurlburt said. "There was high diplomacy and low diplomacy, and the whole range of soft issues were regarded as kind of second class pursuits, not career-making in the State Department."
Hurlburt noted that Albright created the first office of women's issues at the State Department, an office that later fell into doldrums and was revived under Clinton's "rockstar status."
Clinton's commitment to women's issues in some ways mirrors Albright's, the first female Secretary of State. Both emphasized how empowering women improves the prospects for poor countries.
"When I became secretary of state, I made women's issues central to American foreign policy," Albright said last year. "Not just because I'm a feminist, but because it's a fact that if women are politically and economically empowered, societies are more stable."
In her address, Clinton acknowledged that some of her wheelhouses are considered "soft," and said she had and could handle the big security issues as well:
So technology, development, human rights, women — now, I know that a lot of pundits hear that list, and they say, isn't that all a bit soft? What about the hard stuff?

Well, that is a false choice. We need both, and no one should think otherwise. I will be the first to stand up and proclaim loudly and clearly that America's military might is and must remain the greatest fighting force in the history of the world. I will also make very clear, as I have done over the last years, that our diplomatic power, the ability to convene our moral suasion, is effective because the United States can back up our words with actions. We will ensure freedom of navigation in all the world's seas. We will relentlessly go after al-Qaida, its affiliates and its wannabes. We will do what is necessary to prevent Iran from obtaining a nuclear weapon.
"As Hillary Clinton steps down as Secretary of State, it's worth noting that she has not only done a terrific job but also that the reason is largely that she has expanded her realm to include a non-traditional agenda," New York Times columnist Nick Krisof wrote on his Facebook page on Friday. "On some of the traditional areas, she didn't do as well: Most striking, she backed the 'surge' in Afghanistan, which I think is now widely regarded as a mistake. But Hillary Clinton will be remembered as a superb SecState partly because she attended not only to security and diplomacy, but also brought development, women's rights, agriculture and nutrition, and climate change onto the agenda."
Many around Clinton expect that focus on women's rights abroad to remain with Clinton after she leaves government, and perhaps to become a plank in a future presidential platform.
"The gender equality issues, women's rights are huge," Miller said. "And it resonates if she has political aspirations."
But Miller said that Clinton's focus on issues outside the male-dominated "hard" security and diplomacy spheres was probably more a result of President Obama, who "wouldn't give her the big issues."
"We don't know what kind of negotiator she would have been, she was never tested," Miller said.
And the highlighting of women's rights globally might duck under the radar again under the secretaryship of John Kerry. The boys-club atmosphere of the upper reaches of the foreign policy establishment — where the only real and important work is considered to be Richard Holbrooke-esque dealmaking — may prove hard to shake off for good.
"I don't think John Kerry is going to be the champion of planetary humanism," Miller said.