Chuck Hagel Appointment Stresses Pro-Israel Group
AIPAC didn't take a side — but its donors do. "A very bad guy."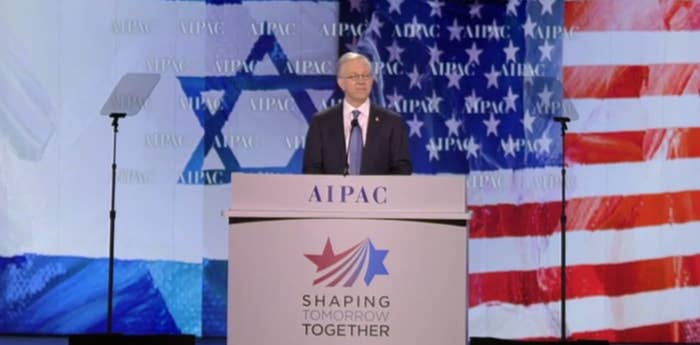 WASHINGTON — Donors to the pro-Israel lobby AIPAC gathered in Washington this weekend in the shadow of an appointment the group, for all its legendary clout, appeared powerless to stop.
Many of the supporters of the American Israel Public Affairs Committee, as the group is formally known, expressed a kind of resigned frustration toward the confirmation of Chuck Hagel as secretary of defense, but most avoided direct criticism of AIPAC's inaction during the drawn-out mudfight over the nomination.
"I think Chuck Hagel's a very bad guy. I don't like him. I think he's a mistake. I think he was a mistake for the Obama administration," said Rena Lewin, a 20-year AIPAC member and donor from Potomac, Maryland. "But for some reason or another AIPAC did not feel that was a fight they could win," she said.
AIPAC refused to publicly take a stand during the fight over Hagel's nomination. The move reflected the group's traditional neutrality on matters of personnel — as opposed to policy. But a new set of vocal, Republican-linked groups waged a bitter campaign against Hagel, leaving AIPAC in an awkward and vulnerable position. Indeed, the enforced silence was too much this time for some members. There were, people familiar with the situation say, a flurry of phone calls from donors to AIPAC's leadership over the past few weeks demanding that the organization do something to stop the former Nebraska senator, who had once suggested the "Jewish lobby" exerted a malign influence on American policy.
At this year's Policy Conference, where AIPAC's rank and file congregates once a year, donors and attendees wandering in and out of the Congressional Club lounge for donors filled with pool tables and massage chairs were publicly guarded about the organization's position regarding Hagel — though it was hard to find one who didn't intensely dislike him.
"I was very disappointed with the Hagel appointment," said David Feder, a donor from Roseland, New Jersey. "It passed, and he's our next secretary of defense, but I think he's the wrong person for the job."
But Feder, like many others, swallowed his feelings about Hagel.
"I don't think AIPAC getting involved would have done anything," Feder said. "That's not AIPAC's role. We can't go against who the president wants to appoint. We did the right thing by not getting involved."
Michael Lerner, a donor from Overland Park, Kansas, who has been an AIPAC member for decades, shook his head when asked if the group could have done more.
"It's not AIPAC's business," he said. "Our business is to work with Congress on legislation. The president's entitled to appoint whoever he wants."
"We could only lose," Lerner said. "It's not what we do."
"Hagel was going to be approved, but even if he wasn't, we wouldn't want to get involved in presidential appointments and things like that," Lerner said, though he said there was more pressure this time for AIPAC to act than there had been in the past.
"That's a very tricky question, because one of the foundations of AIPAC is that we're a bipartisan organization," said Bill Emerson, a donor from West Palm Beach. "So at certain points you suspend your personal choices and options and so on."
"Was everybody in AIPAC happy about the Hagel nomination? No," said Bill Emerson, a donor from West Palm Beach. "Did AIPAC feel like it was a useful thing to put a stake in the sand or whatever kind of metaphor you want to use and push hard against his nomination? No."
"But we have to maintain bipartisanship," Emerson said. "We're a bipartisan organization."
"In some cases, people characterize AIPAC as this conservative, right-wing kind of thing, and there are elements of AIPAC that are like that," Emerson continued, "but in most cases we have to focus on working with Congress on both sides of the aisle."
The diversity of political opinion inside the group did not, in fact, appear to extend to the Hagel question.
"I think it's important that people be aware of the Chuck Hagel issue," said Marcy Stahm, a member from Beachwood, Ohio, adding that was "just me speaking." "But I'm not sure it's AIPAC's place to get involved and take a stand."
"AIPAC represents all Americans — Republicans, Democrats," she said. "It's not about political weaponry."
Philip Klein wrote in January that AIPAC's public neutrality, which has clearly been driven home among its members, matched its private actions: "There is zero activity on the Hill from AIPAC," he quoted a Senate aide as saying. The action on Capitol Hill came from operatives in a few Senate offices as well as partisan groups like the Emergency Committee for Israel, while AIPAC sat it out.
Hagel went largely unmentioned through the conference's official proceedings, but Israeli Defense Minister Ehud Barak made an exception in his speech to the conference on Sunday night. Barak praised Hagel, saying, "I wish Secretary Hagel all the best in his new role. As Secretary of Defense he will no doubt serve his country with the same pride and honor with which he served both on the battlefield and in Congress."
The remark drew only scattered clapping from an audience that had been giving a standing ovation every few minutes during Sunday evening's session. They may have to accept Hagel — but they won't pretend to like him.