Chinese Dissident Disputes Hillary Clinton's Version Of His Escape From China
Did the U.S. really do "what Chen said he wanted every step of the way"? Chen Guangcheng says no, in an interview with BuzzFeed News.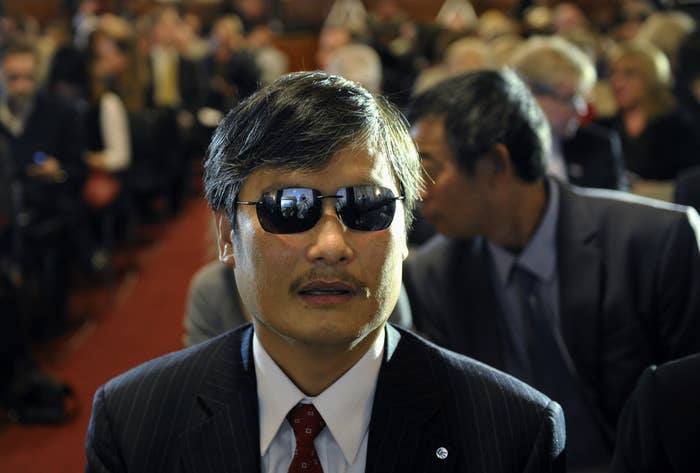 WASHINGTON — Hillary Clinton's claim that U.S. diplomats acted fully in accordance with Chinese dissident Chen Guangcheng's wishes during the period between his escape from house arrest and passage to the U.S. is not truthful, Chen says.
Chen, the blind activist who was was imprisoned for years in China and made a dramatic escape from house arrest in 2012, discussed his new memoir The Barefoot Lawyer in an interview with BuzzFeed News on Tuesday. The book gives a blow-by-blow account of Chen's being taken to the U.S. embassy in Beijing after he escaped, and the tense negotiations that ensued before the agreement was struck for Chen to leave China altogether. In Chen's account, U.S. diplomats broke promises to him and pressured him to leave the embassy without airtight safety guarantees.
Chen's book disputes Clinton's narrative of the time in her book Hard Choices, though Chen said he was grateful for Clinton's help and involvement. The accusations have the potential to complicate Clinton's record at the State Department, which is likely to be a central part of Clinton's expected presidential campaign and her image as a stateswoman. "This book won't help Hillary Clinton's campaign for president," Wall Street Journal critic David Feith wrote this week.
Clinton writes in her book that critics had accused the U.S. government of pressuring Chen to leave the embassy against his will but that "I don't know if the critics were aware that we had done what Chen said he wanted every step of the way."
Asked if that statement by Clinton was truthful, Chen said, "I don't think that's the case."
"I don't believe that they were working in accordance with my requests," Chen said.
However, Chen said he credited Clinton for allowing him to take shelter at the embassy in the first place and was overall "extremely grateful for the work she did at my behalf," and that he blamed the snafu more on the White House than on Clinton. In the book, Chen claims that during a National Security Council meeting with President Obama on April 27, 2012, after he had entered the embassy, officials had decided to stop helping him get online, effectively isolating him as he waited at the embassy. He also writes that during that meeting, "it was agreed that my case shouldn't damage the relationship between the United States and China," which Chen took as an indication that the White House "no longer supported me."
"Regarding the meeting that took place on April 27, it's my feeling the issue is not so much with Hillary as with Obama," Chen said.
In Chen's account, U.S. officials made it clear to him he had to leave the embassy even when he resisted. He writes, "No one seemed to be putting pressure on the Chinese Communist Party; instead they were dumping shipping containers of weight onto my shoulders to get me to do their bidding."
In Hard Choices, Clinton writes that Chen was "unpredictable and quixotic" and is lightly critical of his behavior after he left the embassy and entered a hospital, having agreed to a deal that would allow him to study at a university in China.
"While Chen seemed to be talking easily with every reporter and activist from Beijing to Washington, no one at the embassy could reach him on the cell phones that, ironically, we had provided," Clinton writes. She also writes that diplomats learned of Chen's "new desire" to leave China through his quotes to the press. Moreover, Clinton writes that Chen agreed to leave the embassy voluntarily: "Finally Chen jumped up, full of purpose and excitement, and said 'Let's go.'"
This is how Chen describes that same moment in his book: "The immense pressure was excruciating, and it was clear that none would relent. I realized that I would have to be on my own, and yet there was no way for the ambassador or any of the Americans in the room to understand what I had been through or to fully appreciate the depths of my disappointment and despair. Though I could not see them, I turned my face to each of the officials surrounding me, taking in each one in turn. Suppressing the emotion in my voice, I said, simply, 'Let's go.'"
Clinton also writes that Chen told her "I want to kiss you" when she briefly spoke with him on the phone, but Chen writes that he said "I want to see you now" and that their conversation was rushed and no translator was provided.
Chen is now living in the Washington area and working with the Catholic University of America, the Witherspoon Institute, and the Lantos Foundation for Human Rights and Justice, he said. He told BuzzFeed News that he is in contact with and advising activists still in China. "Because of my experience in the crosshairs of the Chinese Communist Party for so long, I and other friends who work in human rights, we have a pretty good understanding of what works," he said.
Chen moved to New York after leaving China and went to NYU for a time, but the arrangement ended unhappily after Chen accused NYU of asking him and his family to leave, under pressure from the Chinese government. NYU denied this and said that the fellowship had always been meant to last for one year.