NYU Denies Booting Chinese Dissident
The Chinese dissident is leaving NYU amid reports that the university bowed to pressure from the Chinese government. "These are unrelated matters."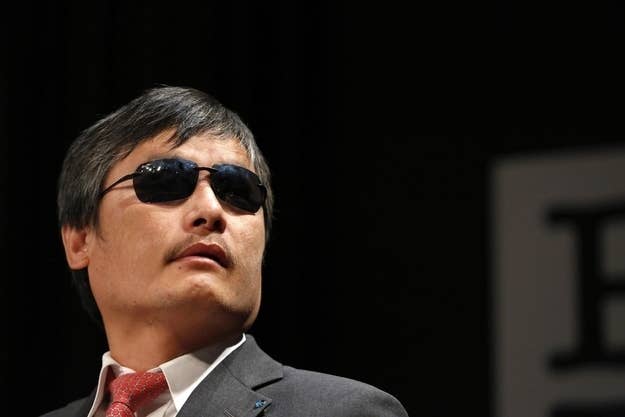 WASHINGTON — New York University is not kicking out Chinese activist Chen Guangcheng because of pressure from the Chinese government, a spokesman said on Thursday.
"The story's claims of 'outside pressure' are fanciful and false," university spokesman John Beckman said, referring to a New York Post story that alleges that NYU, seeking to build a university presence in Shanghai as part of its global expansion, bowed to pressure from the Chinese to stop harboring Chen. "If it were true, why would NYU have taken Mr. Chen in at the height of the public fervor, and why would the Chinese authorities have given us permissions to move forward with our Shanghai campus AFTER his arrival here?" Beckman asked.
Beckman continued:
The plain fact is that these are unrelated matters. In countless hours of conversations involving the establishment of our Shanghai campus, this matter has never come up.

We were pleased to offer Mr. Chen and his family a place to come and study and support his transition to the US when he first left China based on a pre-existing relationship he had with scholars here. But NYU and Mr. Chen had discussions beginning last fall that NYU could not support him indefinitely. We indicated that beyond this academic year he would need to make a transition to a more self-supporting life – with which NYU would and has been helping him – which would involve him finding new living arrangements and completing a book that would be a source of income for his family. During Mr. Chen's time here, NYU has been very generous, providing him and family with housing, health insurance, health care, food, clothing, electronic equipment both related to his blindness and for his family, as well as family, office and language translation support, and arranged opportunities for him to speak and write.

The claims in the story that Mr. Chen's advocacy was restrained are also completely untrue, as the record amply shows.
Beckman included a number of links to stories about advocacy Chen has participated in since coming to NYU.
After seeking asylum at the American Embassy in Beijing following persecution by Chinese authorities in 2012, Chen came to NYU. The deal was brokered by NYU Law professor and China scholar Jerome Cohen. Cohen didn't immediately return a request for comment.