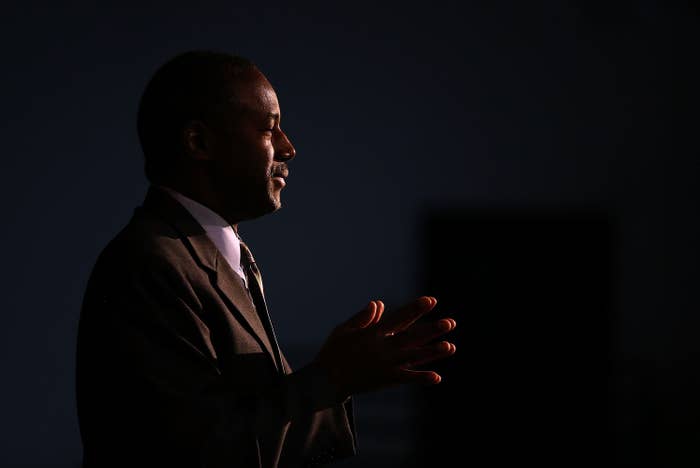 WEST MEMPHIS, Arkansas — Republican presidential candidate and retired neurosurgeon Ben Carson chalked inconsistencies in a story he often tells about nearly stabbing a friend while in his teens up to the passage of time on Friday.
"The explanation is that that occurred over 50 years ago," Carson said in response to a question from BuzzFeed News in a media availability after a rally here. "Have you ever played that party game where you whisper into the person's ear and then they tell it, and by the time it gets all the way back around it's a different story? That's what we're talking here." Carson was referring to the game of "telephone."
Over the years, Carson has told a story about nearly stabbing a classmate of his when he was a teenager, as an example of a moment when he lost control of his temper and a turning point in his life.
The Daily Beast compiled instances of times when the details in Carson's story have shifted; sometimes, the knife is a different kind of knife, and in other instances, the almost-victim was described not as his friend "Bob" but just as "a boy" or "a classmate." In some versions, the story has been detailed, and in others vague. The basic outline of the story of the attempted stabbing, which Carson says was averted by a belt buckle, has largely stayed constant.
Carson discussed other matters with reporters for about 12 minutes after a rally at West Memphis High School, across the Mississippi River from Memphis, Tennessee.
The Washington Post's David Weigel asked Carson about the Centers for Disease Control and Prevention not being permitted to conduct research on gun violence, something that has been attributed to pressure from the National Rifle Association, which opposes such research.
Carson said that he is in favor of research on gun violence, putting him at odds with the NRA's position.
"I say more information is better," Carson said. "You know, whatever it is. Put the information on the table and let's make decisions based on real evidence."
Carson also discussed a visit he made on Friday to the Lorraine Motel in Memphis, where Martin Luther King Jr. was assassinated in 1968 and which has been made into the National Civil Rights Museum.
"It was very touching emotionally to see some of the things that I saw there," Carson said. "They've done an excellent job, particularly with the interactive displays."
"My thinking is that I wish more people would have more of an appreciation of what people went through in order to gain their rights for education for some Americans," Carson said. "I think maybe they might be more prone to take advantage of those things."
Carson said during the visit, "I was thinking back 47 years ago about when it occurred. It was very emotional."