Carly Fiorina: Freezing Iran's Money The Way To Stop Nuclear Deal
The Republican presidential candidate was realistic Tuesday about how difficult it would be for the next president to roll back the Iran nuclear deal. But isolating the country financially, she said, is always an option for the U.S.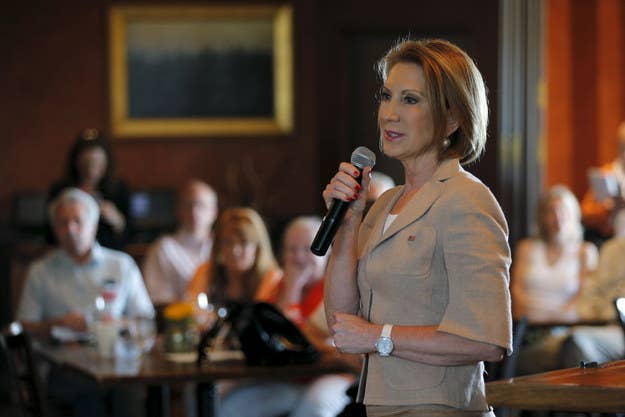 NEW YORK — Republican presidential candidate Carly Fiorina would roll back the new Iran nuclear deal by re-isolating Iran from the international banking system unless they comply with snap inspections, she told BuzzFeed News on Tuesday.
"Well, based on what I've read, I would continue to do what I've said for some time, which is on day one in the Oval Office, I would place a phone call to the Supreme Leader," Fiorina said in an interview in BuzzFeed News' newsroom.
"He might not take the phone call, but the message would be 'new deal,'" she continued. "Unless you're prepared to open every nuclear facility and every military facility, anytime, anywhere inspections — not 20 days notice, not all this stuff apparently we agreed to — we're going to make it as hard as possible for you to move money around the global financial system. We can do that; we don't need anyone's permission or collaboration to do that. That's what I would do."

Asked what Republicans in Congress should do now, Fiorina said she would "encourage them to vote it down" if the deal is as bad as she thinks it is.
But Fiorina was realistic about one of the most obvious challenges facing opponents of the deal: The fact that once it is implemented, it will be extremely difficult to unravel. This stands in contrast to other Republican presidential candidates who have promised to reverse the deal if they win the presidency; both Ted Cruz and Scott Walker, for instance, said they would terminate the deal. Fiorina, formerly the CEO of Hewlett Packard, acknowledged that other countries probably wouldn't go along with a future U.S. president's decision to reverse the deal.
"Even if Congress does vote this deal down, the rest of the world has moved on," Fiorina said. "That's the danger in this. China and Russia are moving on, the EU is moving on, so really, even if Congress votes it down, even if President Obama doesn't override that, the only people who will be walking away from this is the U.S."

That, Fiorina said, is "why we have to make it very difficult for them to move money through the global financial system."
"I mean, we can't control China, Russia — they've never been negotiating on our side of the table," she said.
"The EU is desperate for an opportunity to participate in a growing Iranian economy. And so, we have to make it very difficult for Iran to move money," Fiorina argued. "And one of the things that's going to happen immediately here, is when sanctions are lifted, Iran will get a windfall of hundreds of hundreds of millions of dollars, which based on their past behavior, and I don't see any reason for them to change it, they will use to fund their proxies in the region – Hezbollah, Hamas, etc. – who have a strategic intent to destabilize the region. Which is why, both the Saudis, the Israelis, sort of everyone else in the region has been saying, 'Don't cut this deal, don't cut this deal.'"
Six world powers signed a deal with Iran on Tuesday in Vienna after lengthy negotiations that intends to curb Iran's nuclear program and ensure its peacefulness in exchange for sanctions relief. The deal has been one of the signature efforts of the Obama administration's foreign policy, while being widely opposed by Republicans who argue that it will cause instability in the Middle East and threaten Israel's security.