Canadian Missing In Afghanistan Had A Terror Tie
A strange twist in the story of a missing couple.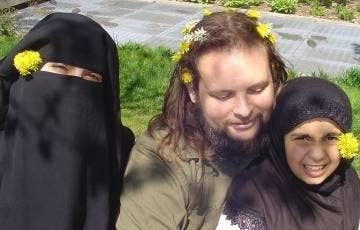 Media coverage of the disappearance of an American/Canadian couple in Afghanistan has so far left out an important detail: the identity of the husband, identified in the American press simply as "Josh" because of his wife Caitlan Coleman's family wish to protect his privacy.
Now Canadian media outlets have named Josh as Joshua Boyle, and his real identity throws a new and strange element into the story: Boyle's ex-wife is Zainab Khadr, whose father has been linked to Al-Qaeda and whose brother, Omar Khadr, the only Canadian citizen ever held in Guantanamo Bay.
"Canadians may remember Boyle as the former husband of Zaynab Khadr, the once outspoken sister of Omar Khadr who spent a decade in Guantanamo Bay before his transfer to Canadian custody this fall," the Toronto Star wrote on Dec. 31 when the news of the couples' disappearance broke.
"He later worked as a Khadr family 'spokesperson' — helping organize Zaynab Khadr's Parliament Hill hunger strike in the fall of 2008 to raise awareness of her brother's case in Guantanamo," the article continues. This chart from The Globe and Mail maps out the connections between the Khadr and Boyle families.
Zainab Khadr was also the subject of some controversy for statements she made in 2004 in a documentary about her brother that seemed to support the 9/11 attacks.
Boyle and Khadr were married for about a year and divorced in 2010; the marriage to Coleman is his second. Coleman was pregnant at the time of their disappearance and is due to deliver the baby this month; the couple are thought to have been kidnapped in Wardak province, in southern Afghanistan.
Khadr's father, Ahmed, who died in 2003 near the Afghanistan border, is alleged to have been an associate of Osama bin Laden; the family moved from Pakistan to Afghanistan in 1996, before emigrating to Canada. As a teenager, Omar was trained among militants in Afghanistan and was captured in a firefight between U.S. and Afghan forces, and subsequently sent to Guantanamo. His sister Zainab became an outspoken activist on his behalf. The case was closely followed in Canada, up to Omar's return to being detained in that country in 2012.
Canadian authorities would not comment on whether there was any suspected link between Boyle's past with the Khadrs and his and Coleman's disappearance in a dangerous part of Afghanistan.
"We do not comment on private matters," Chrystiane Roy, a spokeswoman for Canada's Ministry of Foreign Affairs, told BuzzFeed. "Our thoughts are with the families involved at this difficult time."
Joshua's father, Patrick J. Boyle, is a justice on Canada's tax court. His and his wife Linda's home in Ottawa was vandalized in 2009, the windows shot through with bullets, and the couple was given police protection. The incident shed light on the family's connections to the Khadrs, but the Royal Canadian Mountain Police said at the time that there was no connection between the Khadrs and the break-in.
Reached by email, Patrick Boyle declined to answer questions from BuzzFeed: "This would not be the time for us to make any further comment," he wrote.
Caitlan Coleman's parents, Linda and James, whose decision to speak out put the story in the news in December, did not return a request for comment. Nor did a spokesperson for the U.S. State Department.
Both sets of parents have said that Afghanistan was not part of the couples' original travel itinerary; they were on a multi-month trek through Central Asia and Russia.