Bush Nominees Weren't Pressed On Foreign Cash
A new — and unfair — standard for Chuck Hagel, his defenders argue. The would-be Defense Secretary's confirmation is delayed.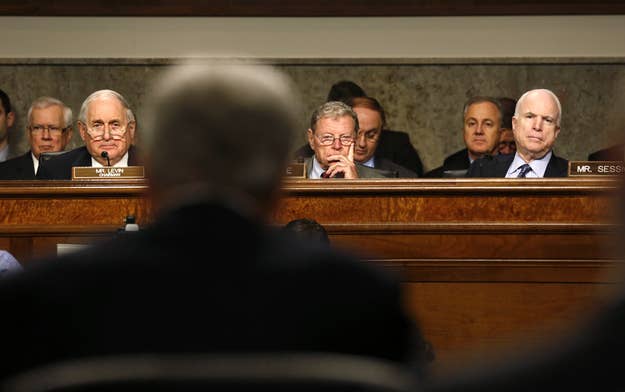 The committee vote on Chuck Hagel's confirmation as Secretary of Defense is on hold because of what about two dozen Republicans believe is Hagel's refusal to disclose payments he may have taken from "foreign sources."
But as a Democratic official pointed out on Wednesday that this appears to be a new standard. Bush-era nominees for Cabinet positions, in fact, often had ties to foreign companies that didn't hold up their confirmations.
In particular, Condoleezza Rice, Donald Rumsfeld, Paul O'Neill, and Henry Paulson all had connections to foreign entities that paid them. Chevron, on whose board Rice sat, even named an oil tanker after her. Yet these nominees weren't asked to make the same kind of disclosures that are being demanded of Hagel.
Hagel, whose nomination is now on hold until at least next week, responded to the senators who signed a letter calling for the delay with a letter of his own, in which he argued that he wasn't able to provide the information they were asking for, which included the suggestion that a policy non-profit he led, the Atlantic Council, open its books.
"I do not believe I have any of the information requested," Hagel wrote.
As of 2000, according to CBS News, Donald Rumsfeld served on the board of ABB Asea Brown Boveri Ltd, an electric power industry giant which was formed from a merger of Swedish and Swiss companies. According to ABB's website: "ABB Asea Brown Boveri, was the result of a merger between Asea AB of Sweden and BBC Brown Boveri Ltd. of Baden, Switzerland in 1988. The merged entity became the world's leading supplier in the $50 billion electric power industry. At that time ABB controlled as much as a third of Europe's business and more than 20 percent of the world market. "
Henry Paulson, the former Treasury Secretary and Goldman Sachs CEO, also had dealings with foreign companies during his work at Goldman Sachs, especially in China.
A Journal of Commerce article from December 17, 1998 notes that "The executive vice governor of Guangdong, Wang Qishan, and Goldman Sachs Co- Chairman Henry Paulson signed an agreement which engaged the New York-based investment bank as financial adviser for a comprehensive restructuring of Guangdong Enterprises."
In 1997, Goldman Sachs advised the South Korean government during a time of economic meltdown in that country. "Still trying to avoid a financial meltdown, South Korea today hired Goldman, Sachs & Company and Salomon Smith Barney as advisers and said it would guarantee up to $20 billion in overseas borrowing by domestic banks," reads a New York Times story from December 20, 1997.
And Paul O'Neill, Bush's first Treasury Secretary, was the chairman of Alcoa Inc., a company from which he made $59.2 million in 2000, according to an AP story from 2001. In 1995, O'Neill told stockholders that Alcoa was investing in an aluminum factory in Shanghai.
The most high-profile of these was former Secretary of State Rice, whose connection to Chevron — the same connection for which Hagel has been scrutinized — resulted in the company controversially naming an oil tanker after her. Rice resigned her position at Chevron when she started as Bush's national security adviser.
Hagel, whose nomination has been fraught with controversy and who performed poorly during his confirmation hearing, has said that he will meet all legal disclosure requirements.