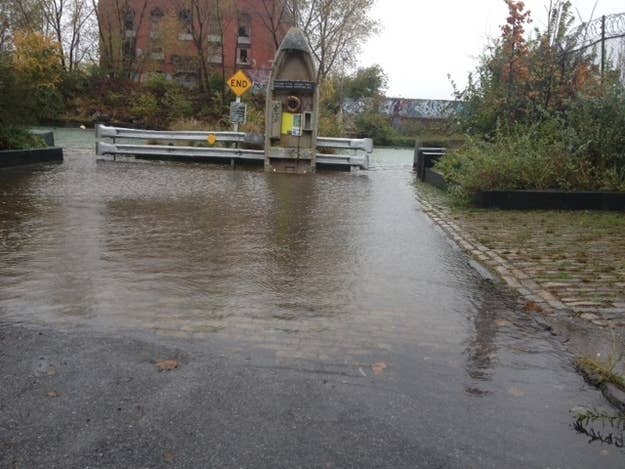 BROOKLYN, N.Y. — As the East Coast braces for the onslaught of Hurricane Sandy, one well-heeled neighborhood in Brooklyn stands to face a particularly bad situation as the notoriously toxic Gowanus Canal begins to flood.
The Gowanus, once an important cross-Brooklyn shipping and industrial route, has become over the years a poisonous brew of heavy metals, oil, and human sewage. The federal government, in an investigation last year prompted by the Gowanus' being declared a Superfund site against the mayor's wishes, found that the canal is full of dozens of different contaminants including a number of carcinogens. They include polychlorinated biphenyls, or PCB's, which have been linked to non-Hodgkins lymphoma and can cause skin rashes, and polycyclic aromatic hydrocarbons, or PAH's, another group of carcinogens, as well as deposits of copper and mercury. This is all apart from the sewage that still flows into the canal. The government estimates that its Gowanus cleanup, which is expected to start in 2015, will come with a price tag (paid by the polluters) of between $300 and $500 million and require heavy dredging, according to the New York Times.
And because of Sandy's expected storm surge, the canal is threatening to spill over its banks and into the homes of the people who live around it in the gentrifying Carroll Gardens and Gowanus neighborhoods.
During the late morning and early afternoon, as Sandy's winds picked up and the rain began in earnest, dozens of passersby, many with dogs and young children in strollers, stopped to gawk at the canal. A pair of police officers put caution tape over 2nd Street, one of the streets that's already being flooded, to prevent the curious from getting too close to the waters.
"I'm concerned about Bond Street," said Lizzie Olesker, 55, a playwright and NYU professor who lives about two blocks from the canal. Bond is the boder between Zone A and Zone B east of the canal; everything past that point is Zone B, but areas directly next to the canal are subject to the city's mandatory evacuation order. "Because of the sewage — it could just back up and we'd be overwhelmed."
"When that comes up and floods, you're not just talking about the Hudson," Olesker said. "This is so toxic."
"It'll really get bad when high tide comes around 8, 8:30 tonight," said Joe Ranieri, a resident of the neighborhood for 70 years wearing a Brooklyn hat with a Brooklyn pin attached to it.
Ranieri said that in the past he had seen the Gowanus flood all the way up past the street where New York has separated Zone A, which has been put under orders to evacuate, from Zone B.
"You got pumps?" Ranieri asked. "Right now it's not that bad. But five-o'clock, you'll see it all coming back in. Keep your fingers crossed."
Lisanne McTernan, 48, an art teacher, excoriated New York's city planning department for considering a controversial apartment development that would be built right next to the canal.
"Imagine as the weather gets worse and this is what we're living in now, this is what's going to happen all the time," McTernan said. "And you're going to tell 1000 people to evacuate every time?"
McTernan is a member of the community group Friends and Residents of the Greater Gowanus and runs a local blog.
McTernan said she was worried about the contents of the Gowanus spilling into her apartment a block away from Zone A, but wasn't leaving because of her cats.
"They haven't left my apartment in 12 years — I think they'd have a heart attack," she said.