Brennan Avoids "Rectal Feeding" In Defiant Press Conference On CIA Torture Report
The CIA chief makes no mention of some of the most shocking revelations in the Senate's report on CIA torture programs.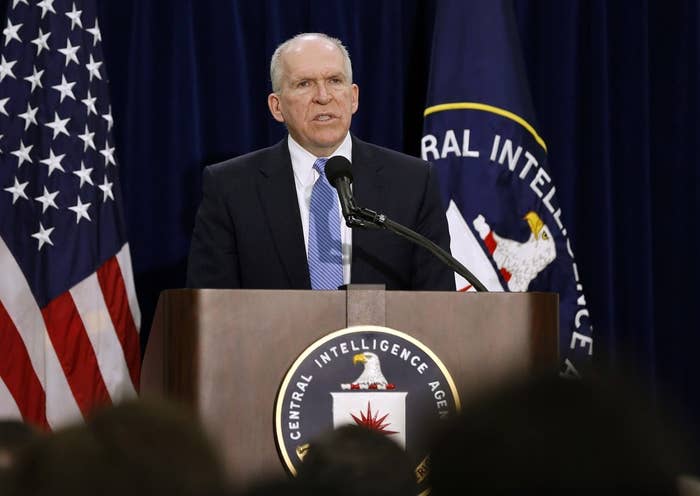 LANGLEY, Virginia — CIA Director John Brennan avoided some of the most uncomfortable terminology in a report released this week on the "enhanced interrogation techniques" used during the war, during a rare press conference on Thursday.
Brennan, who does not normally brief the press, addressed reporters at CIA headquarters in Langley, Virginia, and defended the agency. He also said he believed the torture program crossed lines and said he agreed with President Barack Obama's decision to end it.
"In a limited number of cases, agency officers used interrogation techniques that had not been authorized, were abhorrent, and rightly should be repudiated by all," Brennan said in prepared remarks.
But Brennan's criticism of the "abhorrent" techniques was vague.
Asked to elaborate on which techniques he found abhorrent, Brennan notably did not mention by name "rectal feeding" and "rectal rehydration," two methods used on detainees that were revealed for the first time in the report, released this week by the Democrats on the Senate Select Committee on Intelligence. Many of the other methods described in the report, such as waterboarding, had been previously known to the public.
"I cannot say with certainty that individuals acted with complete honesty," Brennan said. "There are clearly questions about why certain techniques were used, and to your question about which of those do I consider abhorrent, I think anything that went outside the bounds of those enhanced interrogation techniques — this agency went back and forth with Justice, with the White House, to make sure there was a clear understanding of what were going to be approved enhanced interrogation techniques and how they should be applied."
Brennan also avoided saying that the techniques counted as torture.
"I certainly agree that there were times when CIA officers exceeded the policy guidance that was given and the authorized techniques that were approved and determined to be lawful," Brennan said. "They went outside the bounds in terms of their actions as part of that interrogation process. They were harsh. In some instances, as I said, I consider them abhorrent. And I will leave to others how they might want to label those activities."
The SSCI Democrats' exhaustive report on post–9/11 use of torture on terror suspects by the CIA was released on Tuesday and contains many explosive revelations about CIA detention facilities around the world, how they were set up and maintained, and the treatment of the prisoners held there. The report also argues that the CIA lied about the value of the intelligence it was obtaining through torture.
Reporters were invited to a press conference at the CIA headquarters on Thursday, two days after the report was released, to hear Brennan's side of the story and to question him.
"Director Brennan was clear today that in stating that, 'In a limited number of cases, agency officers used interrogation techniques that had not been authorized, were abhorrent and rightly should be repudiated by all,'" a CIA spokesman said later on Thursday when asked if "rectal feeding" is included among those techniques Brennan finds abhorrent.
The spokesman referred BuzzFeed News to a section of the CIA's response to the Senate report that says that rectal rehydration was used in a medical context. The CIA's document says, "Medical personnel who administered rectal rehydration did not do so as an interrogation technique or as a means to degrade a detainee but, instead, utilized the well acknowledged medical technique to address pressing health issues."