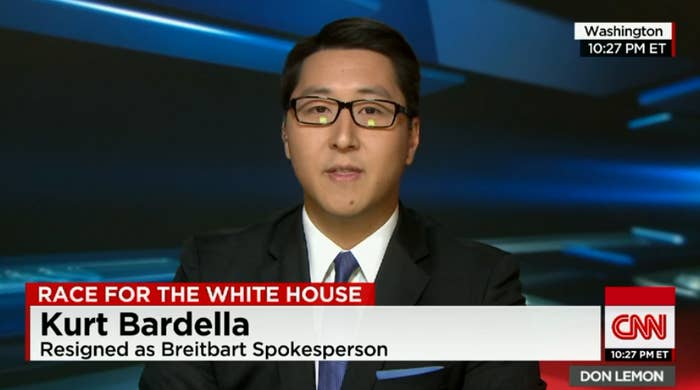 Breitbart spokesman Kurt Bardella is no longer working with the company in the wake of controversy over Donald Trump's campaign manager allegedly roughly handling one of the site's reporters.

Bardella told BuzzFeed News on Friday that he had informed Breitbart of his decision to drop them as a client earlier this afternoon.
"When you can't give an organization 100% of your ability, the best thing to do is move on just for yourself and for them," Bardella, a former spokesman for Darrell Issa, said.
Asked if it would be fair to say he was parting ways with Breitbart because he disagrees with its handling of the situation with Michelle Fields, Bardella said "It would be fair for you to say that" but that he wasn't going to.
"What I personally feel is one thing, but as someone who's supposed to represent them at the public-facing side of this, I was at the point where I couldn't give 100% of myself and best thing to do was to let them know that," Bardella said.
Breitbart posted a story on Friday that called into question whether Trump campaign manager Corey Lewandowski did yank Fields at a press conference in Florida on Tuesday, appearing to side with the Trump campaign over their own reporter.
Fields filed a police report against Lewandowski, Independent Journal reported. The Trump campaign has denied that Lewandowski manhandled Fields at the press conference and has publicly impugned Fields, despite eyewitness accounts, audio, and video that back up her version of events.
After the publication of this story, Bardella tweeted that "Life is too short to invest your time in what you don't believe or aren't passionate about" and sent tweets critical of Trump:
And in a CNN interview on Friday night, Bardella said he objects to Trump and believes Breitbart is lying about their skepticism of Fields' account.
"I think that they've been looking for a reason to disprove something when all the evidence from the Washington Post reporter's first-hand account, to the bruises on Michelle's arm, all the photos and video clips that we've seen strongly suggest that Corey Lewandowski, Donald Trump's campaign manager, was the one who did this," he told Don Lemon. "And there's no reason to never support your own reporter."
"Are you saying they're lying?" Lemon asked.
"Yes," Bardella replied. "I am."
Lemon asked Bardella if he believed Breitbart staffers had lied "all along." Bardella said he believed that in the immediate aftermath of the incident there was confusion, but "I think that as it progressed, and as the evidence became more clear, there seemed to be resistance from Breitbart in supporting Michelle, and it's something I just couldn't understand."
Bardella then explained when asked why he thinks Breitbart would cast doubt on Fields' account that the site is "very supportive of the Trump campaign" and that "there's a desire to want to believe the Trump campaign."
"When you've gone all in so much for a candidate, when you have that kind of skin in the game, you don't want to see that derailed," he told Lemon. "It's human nature."