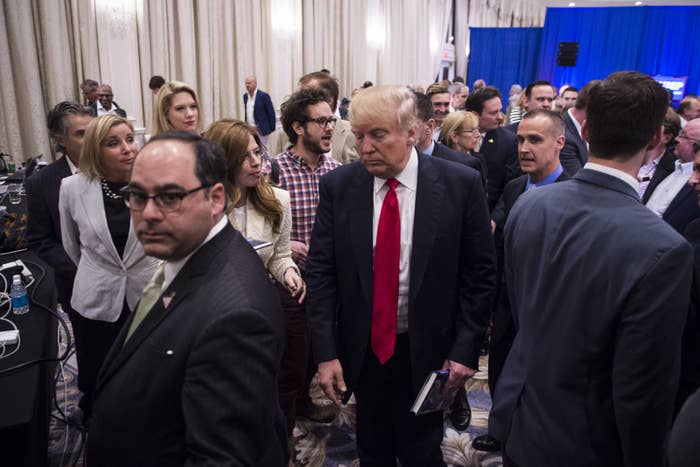 Breitbart senior editor-at-large Joel Pollak ordered staffers in an internal chatroom to stop defending Michelle Fields, the staffer who was allegedly manhandled by Trump campaign manager Corey Lewandowski.
The internal Breitbart Slack chats, which were obtained by BuzzFeed News, put on display the tension between those at Breitbart who want to act like a publisher — defending their reporter and finding the truth — and those entangled in politics.
"STOP tweeting about the story. Stop speculating about the story," Pollak told staffers in one message, and reminded them that "you were given explicit instructions."
"You may wish to defend your colleague, and that is commendable -- but keep in mind that when you do so, you are also putting other colleagues under direct public pressure, so you are actually hurting some to help another," Pollak said in one of the chats. "That is why we have to be patient, and coordinate our responses."
When staffer Brandon Darby wrote that Lewandowski's behavior was "a declaration of war" and "silence is abandoning our team member," Pollak responded, "In war, we wait for orders that are based on a careful plan. So wait."
On Tuesday after a press conference in Florida, Breitbart reporter Michelle Fields was allegedly yanked nearly to the ground by Trump campaign manager Corey Lewandowski while trying to ask Trump a question. Despite the fact that there is video, an audio recording, and an eyewitness account that indicate Lewandowski did this, the Trump campaign has denied it, and Breitbart published a story by Pollak arguing that the person who manhandled Fields was not Lewandowski, appearing to side with the Trump campaign over their own reporter. Fields has filed a police report against Lewandowski over the incident.
Pollak could not immediately be reached for comment. Breitbart chairman Steve Bannon did not immediately respond to a request for comment. Breitbart spokesman Kurt Bardella quit in protest on Friday over how the site has handled the Fields situation and has publicly accused the site of lying about what happened to Fields.

In the following screenshots, Pollak repeatedly tells Breitbart staffers not to comment on the Fields situation: