Bobby Jindal Takes A Stab At Foreign Policy
The Louisiana governor's views seem designed to avoid displeasing anyone. John Bolton and Jim Talent are advising the likely 2016 candidate.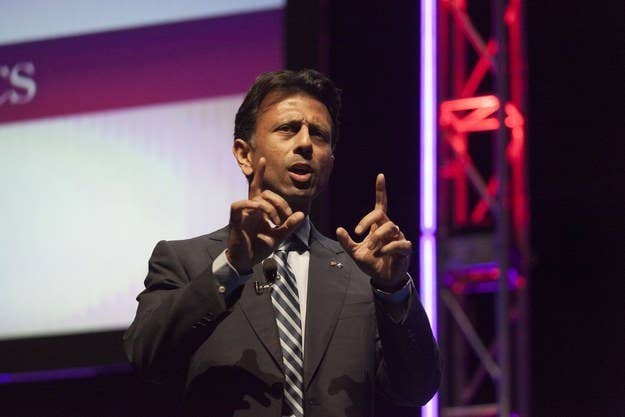 WASHINGTON — Louisiana Governor Bobby Jindal, like the rest of the likely 2016 presidential candidates, is trying to publicly define his views on foreign policy ahead of the election.
So far, though, that definition hasn't quite arrived. Jindal appeared at the Foreign Policy Initiative forum in Washington on Wednesday and delivered polished lines about "peace through strength," not "leading from behind," and not being "the world's policeman." But based off this initial dive into the foreign policy world, it's unclear what Jindal believes in that will differentiate him from the rest of the Republican field, marked by tension between the new school of intervention skeptics like Rand Paul and establishment figures who favor a more muscular U.S. foreign policy.
In a roundtable meeting with reporters before appearing onstage, Jindal came down on basically every side possible in Republican foreign policy.
Asked how he would describe his foreign policy when compared with other notables in the party, he said: "I think that America cannot retreat from the world," because "It makes our final day of reckoning more expensive in terms of treasure and blood. It makes it even harder to defeat these enemies."
"We've seen that, when the president, I would argue for political considerations, overruled his military advisers and withdrew our forces according to a political deadline out of Iraq, left a vacuum, and now you're seeing the rise of ISIS, the political instability not only in Iraq but Syria as well," Jindal said.
On the other hand: "My views are that America can not be the world's policeman. We're not attempting and we should not attempt to be a dictator to the rest of the world. But neither can we be viewing multilateralism as a goal instead of a tactic. I think this administration too often defers to foreign capitals when it comes to defining our foreign policy — America must be willing to lead from the front, and that may mean at times leading coalitions of the willing, that may mean at times working with different allies and partners who share our vales share our interests according to the situation."
The trope-heavy answer indicates an approach that's cautiously hawkish, seemingly designed to displease as few people as possible. This offers a contrast to future potential rival Sen. Rand Paul, who has even applied a label — "conservative realism" — to his foreign policy philosophy, and to Sen. Ted Cruz, who is starting to carve out a space for himself somewhere between Paul and the hawkish wing of the party.
Jindal is making an effort to be taken seriously on foreign policy, an area in which governors often have little experience. Like most of the GOP field, he's recruited others to help him in this arena: He worked with former Sen. Jim Talent on a foreign policy paper in October; both Talent and former U.S. Ambassador to the U.N. John Bolton have been advising him on foreign policy, according to a top Jindal aide.
Jindal was similarly vague on the topic of what he would do if the nuclear negotiations with Iran fail, one of the most pressing foreign policy issues facing the United States. The administration has maintained that military force remains an option if negotiations fail to curb Iran's nuclear program.
"I think this president's too quick to say what he's not going to do," Jindal said. "Nobody in America ever wants to see ground troops as the first option, but this president's very quick to take options off the table, I don't think he should ever do that."
"He's done that sometimes with his rhetoric vis-a-vis Iran, he's done that with his rhetoric vis-a-vis the Middle East," Jindal said. "So I think every option needs to be on the table to prevent Iran from becoming a nuclear power."
He is more aligned with hawkish figures in his party like Sen. John McCain on the question of Syria. Jindal said he thinks that destroying ISIS shouldn't mean the United States should be "deterred from our longer term goal of removing Assad."
One thing Jindal is clear on, though, is advocating for increased defense spending, something he advocated for in the paper with Talent and in a speech in October at the American Enterprise Institute that observers saw as a sign he was aligning himself with the Republican hawks.
"I think we are less likely to deploy our armed forces if we are actually prepared," Jindal said at FPI.