Bitter Paul Supporters Talk Mutiny In Tampa
Ron Paul's legions are ready for war. But the party's almost over, and they know it.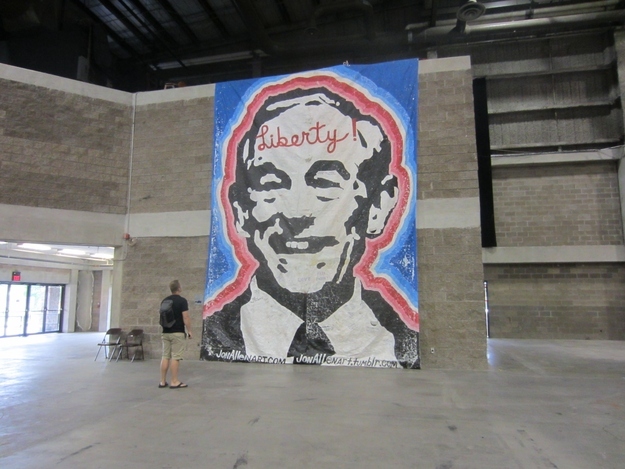 TAMPA, Fla. — The man was too emotional even to give his own name.
"I'm way too overwhelmed," the man, an Arizona Paul delegate, said. He wore the typical Paul paraphernalia and looked to be in his sixties. "I've waited 40 years for this experience." He had tears in his eyes. "Just put that I'm an unknown veteran that went through the hard times."
Pressed on why he was so upset, he said: "Because this country is over if we don't pull this off."
Paul Festival, a three-day celebration of Ron Paul in advance of the Republican National Convention, attracted a fellow-traveling crowd of Paul supporters, plus Libertarian Party members, Constitutionalists, Alex Jones types, and a large number of defiant delegates. This week is Paul World's last shot at really making a difference this year, and the crowd at Paul Fest knew it. The mood has turned from one of giddy surprise — Hey, we pulled off electing all these delegates! — to mutinous disappointment and even anger. The most extreme among them say they'll write in Paul's name on Election Day. The rest are turning to a new leader: Libertarian Party presidential candidate Gary Johnson.
The Paul Festival organizers took over the expo center of the Florida State Fairgrounds for a three day span. Half of it was a cavernous room with a stage and people sitting in chairs or on bleachers in front of it. The other half looked like a county fair from outer space, featuring booths for Scientology, the John Birch Society, a Ron Paul Corvette, and a contraption that people strapped themselves to and whirled around in.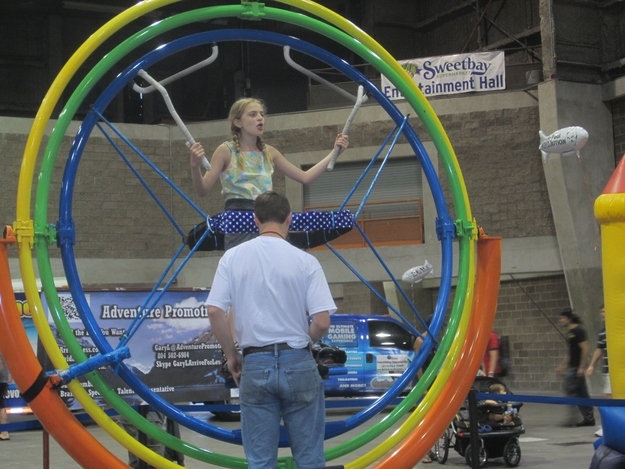 Speaker after speaker took the stage, to varying degrees of interest from the crowd. A Ludwig von Mises Institute fellow named Walter Block explained the "proper libertarian attitude towards abortion" — it has to do with whether or not the mother has the right to "evict" the fetus from her body, since it's her personal property.
Chuck Baldwin, the former Constitution Party presidential candidate who now runs a compound in Montana and hosts a radio show, told the crowd that Ron Paul "will not endorse that neo-con RINO Mitt Romney." (And in fact, he won't; Paul told the New York Times yesterday that he doesn't plan to endorse Romney and that the Romney campaign offered him a speaking slot at the convention, but only if they could approve his remarks. He declined.)
"I believe that Ron Paul has ignited something in our hearts that God put there and that many men have been trying to squash for a number of decades," Baldwin said.
But how will they go on without Paul?
"Everyone will have to just come together," Baldwin said.
Gary Johnson hopes that they'll come together around him. Johnson's views align well with Paul's, and he holds the additional outsider credibility of not being a member of one of the two main political parties. Johnson had the biggest speech on Saturday, managing to pull people out of the booth area into the stage area.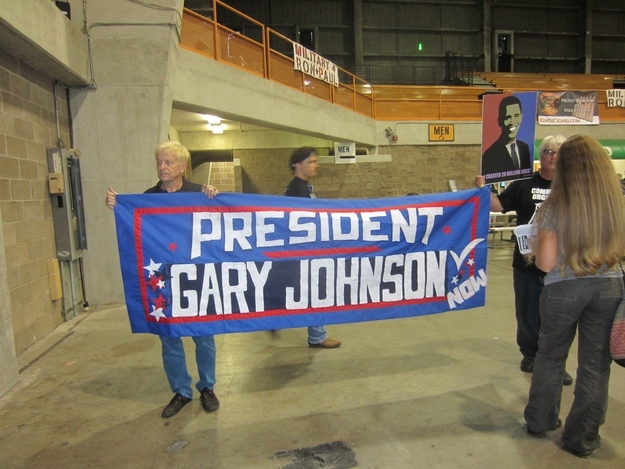 Johnson broke from his usually stump speech to make a direct appeal to the Paul supporters.
"I want you all to know that I am a Dr. Paul fan," Johnson said. "I would not be running if I thought Dr. Paul was going to get the nomination."
"I have two words for Dr. Paul: Thank you," he said.
Asked later in a gaggle with reporters why he thought Paul voters would go to him, "I think it's the resumé," Johnson said. "I've been a libertarian my entire life."
"I just think the fastest growing segment of American politics today is the freedom and liberty movement."
But there's a wrinkle: Paul has striven to bring his followers into the Republican fold. Johnson would do the opposite.
"I think what everybody has from doing that is a headache from beating their head against the wall," Johnson said of trying to be part of the Republican coalition.
And a lot of Paul supporters — disaffected delegates especially — would agree. The Paulites arrived in Tampa full of hope, but they were disappointed last week when the Romney campaign pushed through a rule change that would effectively rule out Paul-type insurgencies in future elections.
Charles Crites, a 69-year-old Louisiana delegate, hooted when asked about the problems that slate had at their state convention.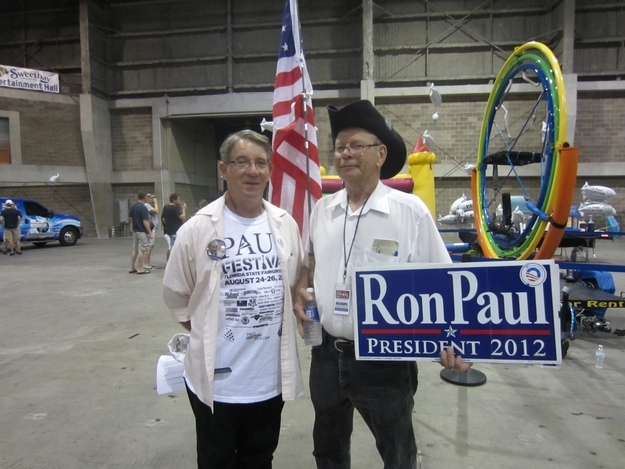 "Did we ever!" Crites, who goes by "Charlie Coon," said ("That's my name down there on the bayou. It's a racial phrase, but I'm proud of it") said. "In fact, I was put in jail last week." (Crites thinks he was arrested for being a Ron Paul supporter; he was thrown in jail for a night after having drinks at a bar for disorderly conduct.)
His friend Jaime Yarbrough, 60, a mushroom farmer — not magic mushrooms, though "DMT is nice" — from Smith River, CA, chimed in: "The cop didn't even know the 4th Amendment!"
Both men scoffed at the idea that they'd vote for Romney in the fall.
"Absolutely not," Yarbrough said.
"Hell no," Crites said. "We're going to do a write-in campaign."