WASHINGTON — Birthright co-founder and billionaire financier Michael Steinhardt is taking out a full-page ad in the New York Times tomorrow opposing the Iran deal.
The ad, sent in advance to BuzzFeed News, is in the form of an open letter to Sens. Cory Booker, Kirsten Gillibrand, Chuck Schumer, and Bob Menendez, asking them to oppose the deal. According to copy at the bottom of the ad, it was made in conjunction with Rabbi Shmuley Boteach's organization, The World Values Network.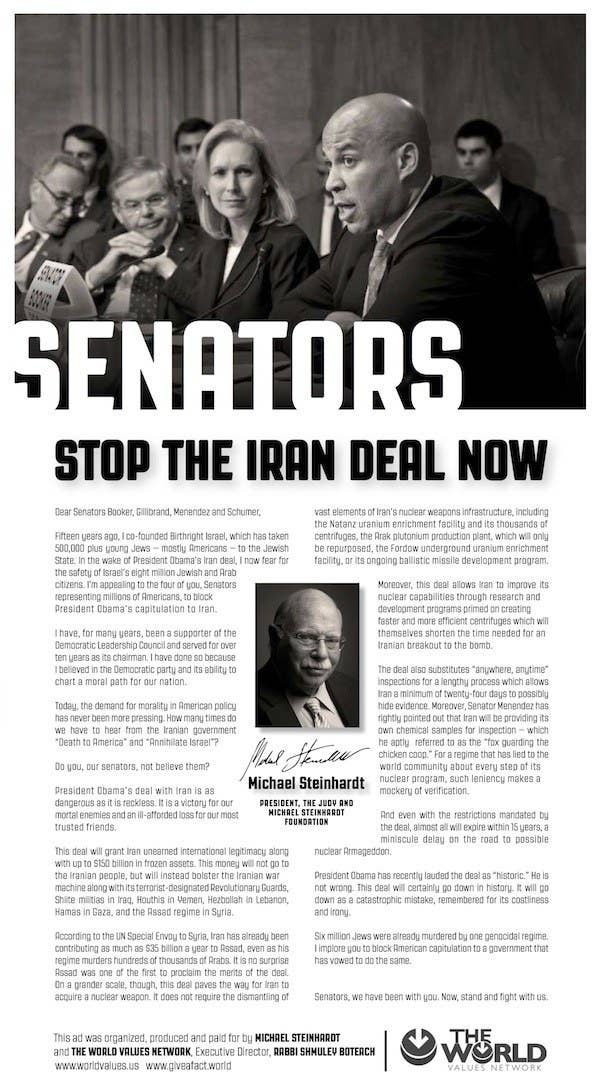 Boteach's organization has taken out full-page ads in the New York Times before; a few months ago, one caused major controversy because it accused Susan Rice of having ignored genocide.
Pro-Israel organizations have been mobilizing against the deal, which is currently under a 60-day Congressional review period before being implemented. The American Israel Public Affairs Committee has launched a new 501c4 organization that is running TV ads against the deal, and hundreds of AIPAC activists are expected to come to Washington next week and lobby members of Congress on Capitol Hill, an official with a pro-Israel organization in Washington said.