Birthright Alumni Group Asks Members To Lobby Against Iran Deal
The group is asking people who have gone on Birthright to call New York-area members of Congress and urge them to oppose the deal. Birthright itself says it had nothing to do with the appeal.
Members of a Taglit-Birthright alumni listserv received an email on Tuesday asking them to call their senators and lobby them against the Iran deal.
The email, sent to the listserv for Birthright alumni in the New York area, urges alumni to "help the State of Israel by contacting your congressman and senator and requesting that they reject this deal and override President Obama's veto of their decision."
Rebecca Sugar, who leads The Alumni Community, the organization that sent the email, told BuzzFeed News that her organization is separate from Birthright.
"Michael Steinhardt who co-founded Birthright is our Chairman," Sugar wrote to BuzzFeed News in an email. "We are recognized as the alumni organization on the ground in NY but we have a separate board, separate funding etc. The email I sent was from The Alumni Community not Birthright Israel."
Asked why she sent the appeal, Sugar said, "Because it is the right thing to do."
Birthright is an Israeli government-sanctioned nonprofit that brings thousands of young Jews each year to Israel on free educational tours. It would be unusual for Birthright to insert itself into domestic political debates. Republican mega-donor Sheldon Adelson is major funder of Birthright, having donated $40 million to the organization this year on top of $120 million overall before that, and is an avowed opponent of the deal. Six world powers and Iran reached a deal to curb Iran's nuclear program in exchange for sanctions relief on Tuesday after lengthy negotiations.
The full text of the email:
From: The Alumni Community <<a href="mailto:rsvp@birthrightisraelalumni.com">rsvp@birthrightisraelalumni.com>
Date: Tue, Jul 14, 2015 at 1:43 PM
Subject: Action Alert: Iran Nuclear Deal
To:

Today was an important day for the State of Israel. After 20 months of negotiations, an agreement has been reached with Iran on their nuclear program. The United States Congress now has sixty days to review the agreement, holding public debates and committee hearings, and will choose to approve or reject the deal.

You can help the State of Israel by contacting your congressman and senator and requesting that they reject this deal and override President Obama's veto of their decision. Call their Washington offices and make your voice heard.

As Prime Minister Benjamin Netanyahu told the world this morning, "This is a bad mistake of historic proportions." You can see the video of his responseHERE, and read the full text HERE.

To learn more about the Iran Nuclear Program and the Negotiations, check out the great resources from AIPAC, the American Israel Public Affairs Committee.

We are all called upon at this moment in history to help Israel. This is a moment for all Birthright Israel alumni to stand with Israel, take action and make your voices heard.
The note was followed by the contact information for the offices of Sens. Chuck Schumer, Kirsten Gillibrand, Cory Booker, Bob Menendez, Richard Blumenthal, and Chris Murphy.
Another employee of The Alumni Community, Natalie Solomon, also posted a similar message in a private Facebook group for former Birthright staffers and trip leaders that is run by The Alumni Community. A screenshot of the post was sent to to BuzzFeed News by a member of the Facebook group.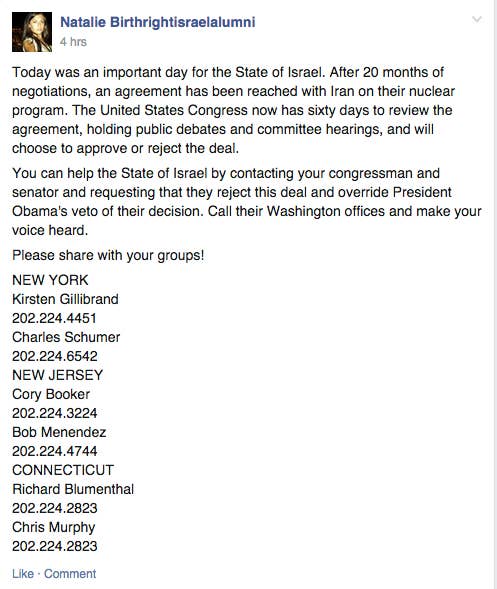 Asked about the Facebook post, Sugar reiterated that her group is not part of Birthright. "Our FB group isn't Birthright Israel's," Sugar said in an email. "It is ours. We message to them as we do our alumni."
On Thursday, Birthright Israel said in a statement that it "had no part in the creation and distribution" of The Alumni Community's appeal to lobby against the Iran deal, saying "While the listserv email included the Birthright Israel logo, the message was sent through The Alumni Community, an unaffiliated organization which organizes Shabbat dinners, a Bar and Bat Mitzvah program and classes to New York area alumni of the Birthright Israel program. The Alumni Community has access to the logo and alumni contact information through a longstanding agreement."
"Though we respect the work of The Alumni Community, it is important to remember it is its own entity, unaffiliated with us, with its own board and funding," Birthright Israel Foundation President David Fisher said in the statement. "This particular initiative was something they did on their own, without the knowledge or consent of Birthright Israel or the Birthright Israel Foundation."