Benghazi Investigation Creeps Closer To Hillary Clinton
Does the buck stop with the former secretary — or is it a political hit? "Who is Cheryl Mills?"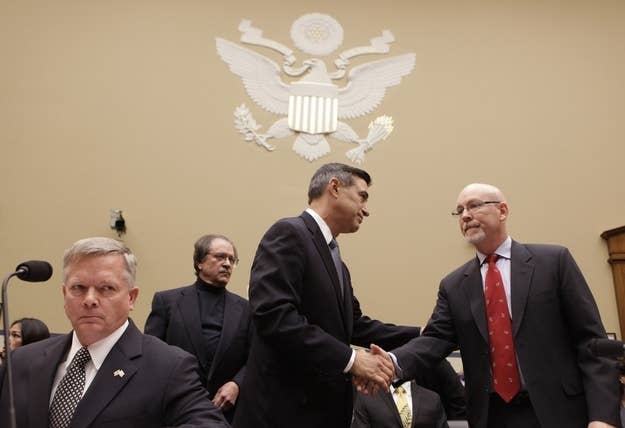 WASHINGTON — The Republican investigation of the death of four Americans in Benghazi, Libya, last September edged closer Wednesday to the woman who, though unmentioned, is its clear target: former Secretary of State, and presumptive presidential front-runner, Hillary Clinton.
Clinton's figure loomed especially large in the proceedings, even when she wasn't directly mentioned, and her State Department was most directly responsible for the response to the attack on Benghazi that killed four Americans. But the explanation for the focus on Clinton is split down party lines, like much else about the incident. Democrats complain that the real end game of the now eight-month-long investigation is for Republicans to destabilize Clinton, possibly handing her a subpoena, before the 2016 campaign. Republicans say, to the contrary, that they are only seeking answers — and that their questions are leading them naturally up the bureaucratic food chain.
Clinton — how much she knew, when she knew it, and whether she willingly participated in a cover-up — was a central theme of the hearing. And Wednesday, the story did move a large step closer to Clinton. Star witness Gregory Hicks, who was the deputy chief of mission in Libya the night of the attack, charged that Clinton's key State Department lieutenant and longtime family retainer, Cheryl Mills, made a concerted effort to block him from meeting with a congressional delegation and that he had never been interviewed by the FBI in connection to the attack. Hicks said that he had been demoted after asking too many questions of his superiors about their response to Benghazi.
Republicans repeatedly raised the fact that Mills, a former deputy White House counsel and Clinton's chief of staff at the State Department, personally called Hicks to express that she was upset that he had met with Rep. Jason Chaffetz without a lawyer present. So was the fact that administration lawyers had told Hicks and the Regional Security Officer not to speak with congressional investigators, as well as Hicks' claim that he briefed Clinton the night of the attack and characterized it as an act of terror. Rep. Jim Jordan of Ohio referred to Mills' as Clinton's "fixer" and "as close as you can get to Secretary Clinton."
"This goes right to the person next to Secretary Clinton, is that accurate?" Jordan said, to which Hicks responded, "Yes, sir." Rep. Trey Gowdy of South Carolina questioned Hicks further about Clinton's hand in the events leading up to and following from the attacks, including the decision to start an outpost at Benghazi in the first place.
"And a third point, to complete the circle, who is Cheryl Mills?" Gowdy asked Hicks.
The mention of Mills, a longtime member of the Clintons' inner circle, could prove problematic for Clinton if the Republicans continue their investigation — which they have promised to do. But the idea that Clinton engineered a conspiracy to tamp down the Benghazi news actually lost some momentum at the hearing during an exchange between Mark Thompson, acting deputy assistant secretary for counterterrorism at the State Department, and Washington, D.C.'s non-voting Rep. Eleanor Holmes Norton. Thompson had said in his prepared testimony that Clinton had purposefully shut the counterterrorism bureau out of the decision-making process on the night of the attack for political reasons. Pressed by Norton, Thompson said that the quote wasn't accurate.
The Mills allegation, meanwhile, prompted a lengthy email to MSNBC from the aggressive Clinton aide Philippe Reines, who said that a lawyer was sent to Libya "so that any personnel on the ground who wanted their advice or presence for any conversation could avail themselves of that option." Reines says that the department was disturbed by the conduct of Rep. Chaffetz, whom he referred to twice as "Jeremy Chaffetz":
In this instance, I was with [Mills] and I remember it vividly because we were hearing from our people in Libya that some at Embassy Tripoli were left unsettled by their interactions with the CODEL – which was made up of only Jeremy Chaffetz because he refused to allow any minority member to join him (or is it Jason Chaffetz?) – and the position they felt they were being put in. Which btw, Jeremy/Jason Chaffetz pledged before his trip he wouldn't do, and that he would completely respect the integrity of the FBI investigation by not interrogating State personnel, who had also just been through hell, were still in a dangerous situation, and lost colleagues and friends – including their ambassador Chris Stevens who they adored.
State sent a legal advisor as sop to Tripoli so that any personnel on the ground who wanted their advice or presence for any conversation could avail themselves of that option. For their own protection and comfort. Chaffetz refused to let this person on government plane, and resented his being in Tripoli (after he was forced to fly there on his own). And he decided he didn't want this person around. Which wasn't his choice to make for the individuals on the ground. If those individuals didn't feel a need for it, they didn't have to take it. And nobody was told to keep Chaffetz from speaking with anyone. That's completely at odds with the cooperative approach the Department has taken with the Congress – all eight of the committees looking into this – from day one, until today.
So after hearing these disturbing reports from several people on the ground, Cheryl said she wanted to call Greg herself to find out how the CODEL went (also remember that it was soon after the attack and we were worried that a CODEL, which requires a great deal of embassy support, would tax their resources at a very difficult time), and that we were behind and with them 100%. She wanted them to know that no matter how far away they were from home, they weren't alone, that the Department was with them, that she was with them, and most importantly, that the Secretary was with them.
Asked for comment on the hearings, a State Department spokesman referred BuzzFeed to Reines' email.
Asked if there was any anti-Clinton motivation in the continuing investigation into Benghazi, Chaffetz told BuzzFeed that the idea was "baloney."
"Even ranking member [Rep. Elijah] Cummings at the end of the meeting concurred with more meetings, more information, and releasing of data," Chaffetz said.
Democrats, meanwhile, dismissed the entire investigation.
"Clearly when Darrell Issa gets involved, the motivation is pure politics," said Tommy Vietor, Obama's former National Security Council spokesman. "Whether they're trying to take a run at President Obama or at Secretary Clinton. It's not like Darrell Issa cared about embassy security before Benghazi."
"I don't think it's going to hurt her," Vietor said.
If Republicans can keep up momentum on this story, though, it could. The Benghazi attack, with its hint of weakness in the face of terror, galvanizes the conservative base. And since there's been virtually no discussion of what kind of lessons could be learned from the attack about embassy security or diplomacy in troubled areas, the debate has become almost solely focused on politics.
And Republicans are vowing to continue to look into it.
"The hearing is now over, but the investigation is not, would be the message for the future going forward," Issa said in a brief press conference after the hearing.