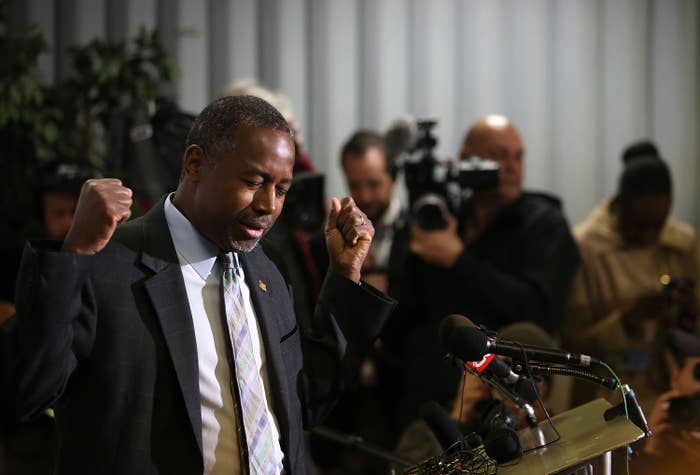 WEST MEMPHIS, Arkansas — Dr. Ben Carson is the latest in a tradition of conservative presidential candidates who make evangelicals the center of their campaign.

Unlike faith-focused candidates of years past, though, he has proven himself to not be a niche candidate: He's now leading the Republican primary race, according to the most recent NBC/Wall Street Journal poll — not only that, 50% of Republican voters polled named Carson as either a first or second choice. Carson is now leading in the Real Clear Politics average of four national polls, knocking Donald Trump out of the top spot after over 100 days of the businessman in the lead. According to more NBC/WSJ polling, Carson ties Hillary Clinton in a hypothetical general election matchup because he beats her by 13 points among independents — much more than any of the other Republican candidates.
Carson has hit upon a magic formula: He's managed to rocket into the lead of the primary — with a message almost exclusively targeted to one slice of the electorate.
"He does the Christian identity thing and it seems to be working for him better than it has for other previous examples," said Gary Bauer, the longtime conservative activist and former Reagan administration official who ran for president in 2000. He noted that there is a long history of candidates whose Christianity is the most important thing about them, something "particularly true with Pat Robertson."
There's no perfect parallel to Carson's trajectory, though Robertson's 1988 campaign might be the closest; he also had no government experience, but was a well-known figure on the religious right, and he too did well in Iowa, as Carson seems primed to do, coming in second in the caucuses that year. Unlike Robertson and Mike Huckabee, who are Baptist ministers, Carson is a Seventh-day Adventist, whose background is in neurosurgery.
"I think in Dr. Carson's case this is happening at a time when evangelical voters feel like they've been wanted on election day but are not really welcomed when policy is being made," Bauer said. "So here comes a candidate that they have absolutely no doubt that he worships the way they do, etc., etc."
On the trail, Carson combines his soft-spoken manner with us-versus-them rhetoric based around religious differences: "I get a lot of ridicule from secular progressives because I believe in God. But I've got to tell you something: I will never relinquish my belief in God," he told an adoring crowd in West Memphis, Arkansas, last week. Carson talks about the Judeo-Christian values he sees as essential to what America is, and he blasts the "secular progressives" for imposing political correctness on other Americans.
He delivers this content in his trademark mild tones, however, and interwoven with his own remarkable personal history. It doesn't come off as negative and brash, like a Trump speech does. It's somehow more uplifting than a "joyful" Jeb Bush speech aimed at more moderate Republicans. It's also different than the Bible-thumping cliche often associated with socially conservative candidates.
And conservative voters, including but not limited to evangelicals, are "looking for alternatives," said Steve Scheffler, president of the Iowa Faith and Freedom Coalition. "Ben Carson's one of those avenues by which they're looking to make a statement and put their support behind him...I think part of it's a protest vote but I think by and large people think he's right on the issues."
At a recent Iowa meeting with 17 activists in Winneshiek County, seven said they were for Carson, with the others spread out between several candidates, Scheffler said. (None were for Trump.)
"That county is not necessarily a hotbed of evangelical conservative activity like some other counties," Scheffler said.
Carson does draw large crowds of Christians, particularly Christian women, to both his campaign events and his book tour events (he has been holding book signings during the past few weeks despite still being on the campaign trail).
His ground operations have a heavy focus on reaching voters through religious venues; Bloomberg Politics has described how his campaign is building support in churches across Iowa. Scheffler told BuzzFeed News that the main super PAC supporting Carson's bid, under the direction of Midwest director Tina Goff, has "probably been more active in Iowa than any other entity, campaign or super PAC." He said they opened an office early and have been doing caucus training, and "they're everywhere. To their credit, they have been networking for a long time."
In a press availability after the event in West Memphis, Carson argued that his "strategy is to talk about things that are relevant to all Americans and every segment of our society. We've become way too divided."
But he acknowledges that he's really speaking to a particular constituency of social conservatives with "traditional" values like his, though he believes that represents most people. "I believe that the vast majority of Americans have traditional American values," Carson told reporters after the event in West Memphis. "And they've been bullied into shutting their mouths and sitting down, which has allowed the secular progressives to have reign, and I believe that the people who want to give away all of our values and principles that made us into a great nation so they can be politically correct are not our friends."
Importantly, two of Carson's biggest bases are two that aren't a natural fit for Trump: evangelicals and women. A Public Policy Polling poll this week showed him leading with evangelical voters in Iowa with 22%, and also leading among Iowan women with 22%. Trump is lagging behind Carson in both categories there.
Asked what her favorite thing about Carson was, supporter Lillian B. Hodges, 76, a pastor in West Memphis, Arkansas, said "his belief in Jesus Christ, that's what."
"He's going to seek God about how to lead our country and allow God to lead our country, rather than what politicians think is best to lead our country," said voter Kim Hester, 56, who attended Carson's speech at Colorado Christian University in Lakewood, Colorado, the day after last week's Republican primary debate. "I think he's very genuine, I think he's very intelligent and well thought-out some of the issues. I think he thinks outside the box. That's beyond what the politicians are feeding us, and it's refreshing."
Voters are so familiar with Carson from his books and his famous appearance at the National Prayer Breakfast in 2013 when he became a conservative icon for criticizing President Obama that they don't seem to mind his lack of government experience and tendency to avoid policy specifics. Carson, like Trump a celebrity in his own right, dovetails neatly into conservative voters' current disgust with Republican elites.
"The other factor here is this is happening at a time when large percentages of self identified Republican voters are actually seeing previous experience in elected office or in government in Washington as an impediment to getting their support," Bauer said.
But this is precisely why some prominent conservatives are warning against Carson's bid.
In September, New York Times columnist Ross Douthat wrote that Carson was running a "content-free campaign" and that "He's offering a collection of pieties and crankery; mostly, his candidacy is just about the man himself."
"And unfortunately evangelical voters have a weakness for this kind of pitch," Douthat wrote. "From Pat Robertson in 1988 through thin-on-policy figures like Mike Huckabee, Sarah Palin, even Michele Bachmann briefly in 2012, the evangelical tendency has been to look for a kind of godly hero, a Christian leader who could win the White House and undo every culture-war defeat."
As with everything in this unusually fluid primary, the winds could shift and the landscape on the day of the Iowa caucuses could look a lot different from now. Evangelicals don't necessarily vote as a bloc, and where they are now could be a lot different from where they'll end up.
"They're really independent in their thinking," Scheffler said of evangelical voters. "They like to vet the candidates. That vetting has to go on before they make a final decision."
And despite his current numbers, Carson's faith-based pitch risks turning off secular voters; something that hasn't stopped Carson yet, but could prove tricky later as more and more people tune in to the election and the scrutiny ratchets up.
"He's a little radical," said Tobia Fuller, 59, who attended the West Memphis event to get a look at Carson and hasn't settled on a candidate yet. "Very conservative. I think he's a little too religious. Religion is supposed to be separate — church and state, you know. He's going to get a lot of votes running. I've got a lot of cousins, you know, we all grew up in church, and they're going to vote for him just on his religious views, which, my personal opinion, is wrong."