Ben Carson: "Deal With The Transgender Thing Somewhere Else" Besides Military
Carson also wonders why women would want to serve in combat roles in the "dirt and slime," though said he does not oppose women serving on the battlefield if they meet physical standards.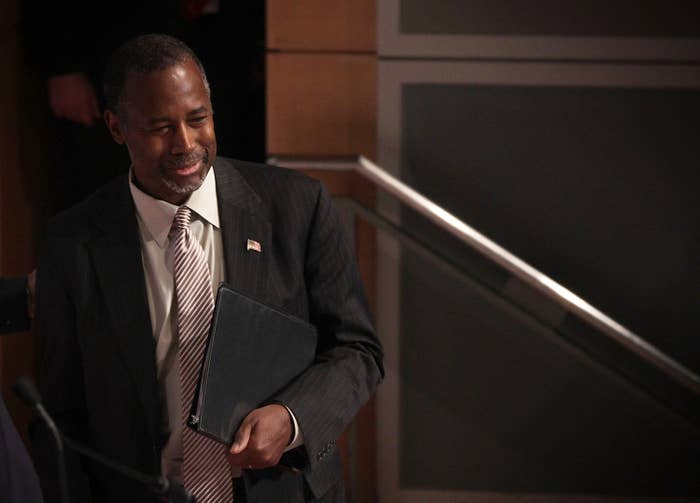 WATERLOO, Iowa — Republican presidential candidate Ben Carson said on Saturday he preferred the Don't Ask Don't Tell policy that barred out gays and lesbians from serving in the military, and suggested that he opposes transgender service in the military.
Defense Secretary Ashton Carter ordered a six-month review of the ban trans military service in July of this year, calling the ban "outdated." DADT was repealed in 2011.
"I do not appreciate using our military as a laboratory for social experimentation," Carson said. "We have too many important things to do when our men and women are out there fighting the enemy, the last thing we need to be doing is saying, 'What would it be like if we introduced several transgender people into this platoon?' Give me a break. Deal with the transgender thing somewhere else."

"I liked the old 'Don't Ask Don't Tell' philosophy," Carson said. "Why do you have to go around flaunting your sexuality? It's not necessary. You don't need to talk about that. We need to talk about how we eliminate the enemy."
Carson also wondered why women would want to be in combat roles but said he supports their doing so if they meet military standards, he said on Saturday.
"As far as women are concerned on the battlefield, I have a tendency to want to protect women, but I also have great respect for women and all the success I've had in life is because of women," Carson said at a town hall meeting hosted by the group Concerned Veterans for America. "So I am never going to say no to the women, I'm not, but I am very frightened, when it comes to certain job descriptions, if we lower the standards."
Carson was responding to a question about Carter's announcement that combat roles would now be opened to women. Concerned Veterans for America CEO Pete Hegseth had asked him whether he thinks political correctness is affecting the military.
"What woman wants to go out in the front line in the dirt and slime fighting?" Carson said. "I mean, if they want to do it and they're capable of it, no problem, I would
never deny them. But I would be steadfast about the requirements. If you can't
lift a 175-pound person on your shoulder and hoist them out of there, then if I'm
out there I don't want you as my backup."
Carson was speaking to a small crowd in Waterloo mainly composed of veterans and military families. He took audience questions, including one asking him to "vow to not be a puppet like Obama for the New World Order." (Carson promised to only be a puppet for God, and said, "The New World Order is not interested in him, I can guarantee you.")
Carson has found himself dropping in national polls after a series of fumbles on foreign policy and national security in the wake of the terror attack in Paris, and slipped to third place at 14% in the latest CNN/ORC national poll.