Barney Frank's 2010 LaRouche Nemesis Is Still Around
Rachel Brown is running for Frank's seat again, but doesn't have him to kick around anymore.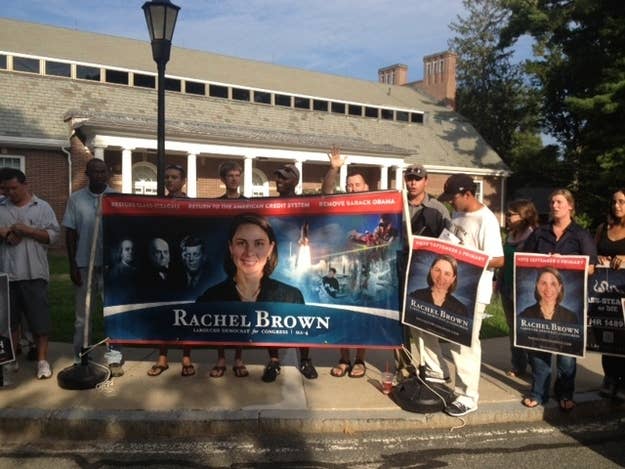 EASTON, Mass. — Rachel Brown, the Lyndon Larouche follower who famously sparred with Rep. Barney Frank during the 2010 election, is back again. She's running for Frank's seat for a second time, now that he is retiring. Brown participated in a candidates' debate for Massachusetts' 4th congressional district on Tuesday, where she's competing for the Democratic nomination in an upcoming primary against two candidates (including frontrunner Joe Kennedy III).
Brown brought a coterie of followers to the event, who sang anti-Obama carols and handed out LaRouche literature. They had posters with an image of Barack Obama with Adolf Hitler's mustache, like the one Brown brandished at Frank in 2010.
Asked how she felt about no longer having Barney Frank as an opponent, Brown paused for a few beats and said, carefully, "I'm glad because I see it as an opportunity to put what I see as the correct policies in place."
In 2010, Brown confronted Frank at a town hall meeting with a question about "Nazi" health care reform, provoking a legendary outburst.
"On what planet do you spend most of your time? Ma'am, trying to having a conversation with you would be like trying to argue with a dining room table, I have no interest in doing it," he said.
Brown's policy interests are heavily weighted towards space exploration and the restoration of Glass-Steagall, to the exclusion of almost anything else. During the debate, Brown answered a question about campaign finance reform by praising the recent success of Mars Curiosity: "I do think there is something very interesting that happened last weekend, with this landing on Mars," she said.
Brown's campaign manager, Jennifer Kreingold, said that in retrospect, Brown's 2010 flap with Frank was a boon for her.
"It was good in the sense that she was telling the truth," Kreingold said, calling the Affordable Care Act a "fascist policy."
But the team is realistic about its chances of winning the district.
"We're not concentrating so much on counting votes," Kreingold said.