Ayatollah Khamenei's Rabid Dog Comments "Uncomfortable," Senior U.S. Official Says
The official doesn't specifically condemn inflammatory rhetoric by Iran's supreme leader.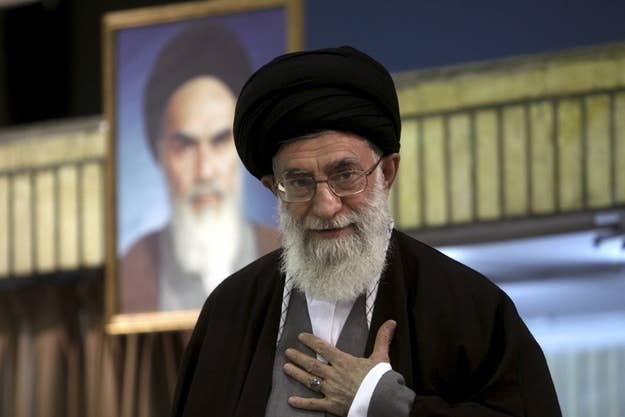 GENEVA — A senior U.S. administration official said that inflammatory rhetoric by the Ayatollah Khamenei on Wednesday was "uncomfortable" but did not condemn it as unacceptable, as the French have done.
"Of course I don't ever like it when people use rhetoric that in any way talks about the U.S. in ways that I find very uncomfortable and not warranted whatsoever," the official told reporters assembled in Geneva to cover Iran nuclear talks this week.
"I do hearken back to what President Obama said at the UN General Assembly however. There are decades of mistrust between the United States and Iran," the official said. "We certainly have had many people in our society say difficult things about Iran and Iranians, and not always necessarily made a difference between governmental decisions and culture and people — this is a very difficult terrain, is I guess my bottom line here, because there are these decades of mistrust."
"So I would hope that neither in the U.S. nor Iran would leaders use rhetoric that may work well in a domestic constituency but add to the decades of mistrust on both sides."
The official was asked about Khamenei's address to the Basij paramilitary force on Wednesday in which he referred to Israel as a "rabid dog" and accused the U.S. of launching a nuclear attack on Japan after the country had surrendered in World War II. The official did not specifically address the "rabid dog" comment.
A French government spokesperson on Wednesday condemned the remarks, calling them "unacceptable" and saying that they "complicate" talks.
During the briefing with reporters, the official said that an unusually short plenary session with the Western and Chinese and Russian negotiating powers and Iran was short because it was "meant as a kickoff" and said that the P5+1 shared a "unity of purpose."
The negotiating powers are holding a series of bilateral meetings on Wednesday evening before talks continue on Thursday.