At Wisconsin Tea Party Rally, Republicans Look To November
Ryan and Priebus rally the troops in Racine County. The message: win in Wisconsin and win the general.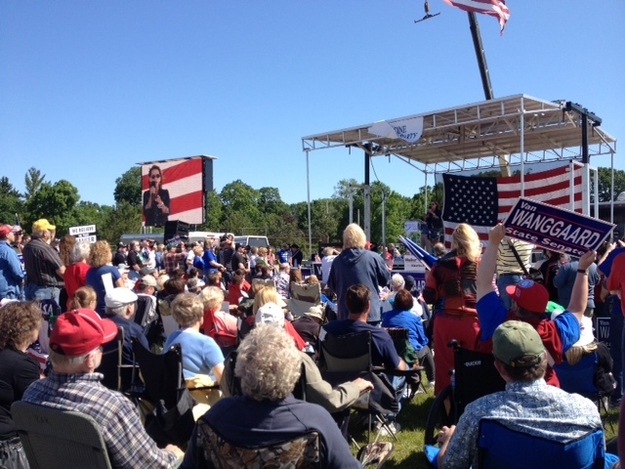 CALEDONIA, Wisconsin — A Tea Party rally on Saturday drew a thousand or so to a field in Racine County to hear some of Wisconsin's biggest Republican stars highlight the national importance of Tuesday's recall election. Walker himself was absent, though the message was bigger than the governor himself: speaker after speaker noted that the implications of June 5 extend all the way to the presidential race.
The speakers list included a host of conservative stars, including the return of two local boys made good: Congressman Paul Ryan and GOP Chairman Reince Priebus. Lieutenant Governor Rebecca Kleefisch (also facing recall) appeared, as well as Madison radio host Vicki McKenna, and State Senator Van Wanggaard (another politician whose seat is up for grabs on Tuesday). Messages of support were taped in from Michelle Malkin and David Limbaugh, the brother of Rush.
Ryan got the most enthusiastic reaction from the crowd, receiving a huge standing ovation.
"On Tuesday, we save Wisconsin," he said. "On November 6th, Wisconsin saves America."
"This is an election that will send shockwaves throughout America," Ryan said.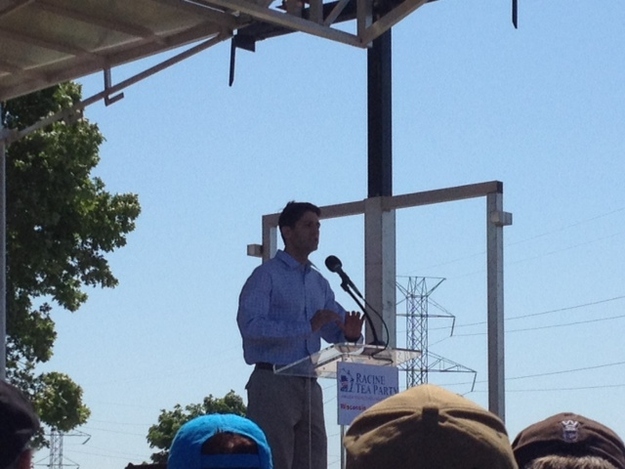 "Friends, the whole country is watching us," he said. "It is a momentum-maker or a momentum-breaker. The stakes are as high as they ever could be."
"Wisconsinites, this is it, this is our moment. This is a big deal. The country is watching."
His message was echoed by Priebus, who walked out to "One Thing Leads to Another" by The Fixx.
"We're in a battle for freedom in this country," said Priebus, who wore mirrored aviator sunglasses during his speech.
Priebus called Walker "Somebody who had the courage to stand up to those big public union beasts that never can eat enough and eat us out of house and home."
"I gotta tell you, we win on Tuesday, we turn Wisconsin red in November, and it's lights out for Barack Obama," Priebus said.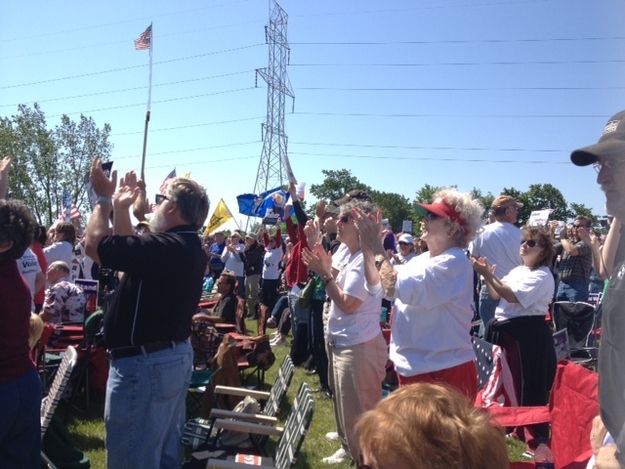 Standing in for Walker, Lieutenant Governor Rebecca Kleefisch led the crowd in a chant of "Forward!," President Obama's campaign slogan, in what didn't appear to be an intentional joke.
The crowd was mostly locals in Scott Walker shirts and "Luv My Gov" buttons, but included a sizeable contingent of people who came from elsewhere, some as far as Florida.
Art Ellingson, the founder of the Arlington Heights, Illinois branch of the Tea Party Patriots, came on a bus with 50 other people from Chicago just to attend Saturday's rally.
Ellingson drew a chart on this reporter's notepad that he said was the budget after Nancy Pelosi became Speaker of the House, and explained what brought him all the way from Chicago: "Walker's gonna win, and then we will be on a roll all the way to November."