CLEVELAND — The 2016 Republican National Convention has been a fraught time for the Republican Party, a painful rift instead of a triumph.
But on Tuesday night, a few minutes away from the Quicken Loans Arena, Donald Trump's nomination was cause for unadulterated celebration. Here, some of Trump's most passionate advocates — figures often relegated to the fringe — instead headlined a "Gays for Trump" party.
Dubbed the "WAKE UP!" party by organizers, guests were entreated to speeches from Dutch far-right politician Geert Wilders; Breitbart writer and (now-banned) Twitter celebrity Milo Yiannapolous; and anti-Islam activist Pamela Geller. (Geller's was, she said, her first public speech since her Garland, Texas, appearance last year that was attacked by gunmen.) Notorious conservative writer Charles C. Johnson was in attendance wearing a Make America Great Again hat, as well as white nationalists Richard Spencer and Peter Brimelow. It took place in an anonymous ballroom at Cleveland's Wolstein Center.
"I've worked on LGBT issues with Republican nominees since 2004," said Chris Barron, one of the co-founders of the gay Republican group GOProud, who organized the event. "This is the most open campaign I have ever dealt with."
"By the way, the Trump-Pence signs that are up here that are not even in the convention hall yet? The campaign had those on special order for us," Barron said. "They wanted this event to go on. They were excited for this to go on." Barron said he was an official surrogate for the Trump campaign.
GOProud was an early Trump adopter; the group was responsible for Trump's first appearance at the Conservative Political Action Conference in 2011. Trump has cast himself as a defender of the LGBT community — one who is relatively agnostic on marriage — and he made a renewed round of overtures after the recent attack on an Orlando gay club. Tuesday's event was meant to be a LGBT-themed event. But the presence of open white nationalists like Spencer and Brimelow, plus the archetypical far-right European politician Wilders, highlighted other themes: populism, nationalism, ethno-centrism. The undercurrents that have made Trump's candidacy so different from past Republican nominees, so marked Tuesday's party.
"It's really so good to be back again in America all week at the convention of what you call the Grand Old Party," Wilders, who is visiting the convention this week as a guest of the Tennessee Republican Party, told the crowd. Like the other speakers, Wilders spoke behind a lectern sporting a Trump-Pence sign and in front of a wall covered in photographs of half-naked young men wearing Make America Great Again hats taken by "Twinks for Trump" auteur Lucian Wintrich. "I'm not American but don't blame me if I say I hope that Donald J. Trump will win the election." Wilders was accompanied by several bodyguards who escorted him out immediately after he finished speaking, and organizers said Wilders was part of the reason security at the venue itself was so tight (attendees were wanded before going in).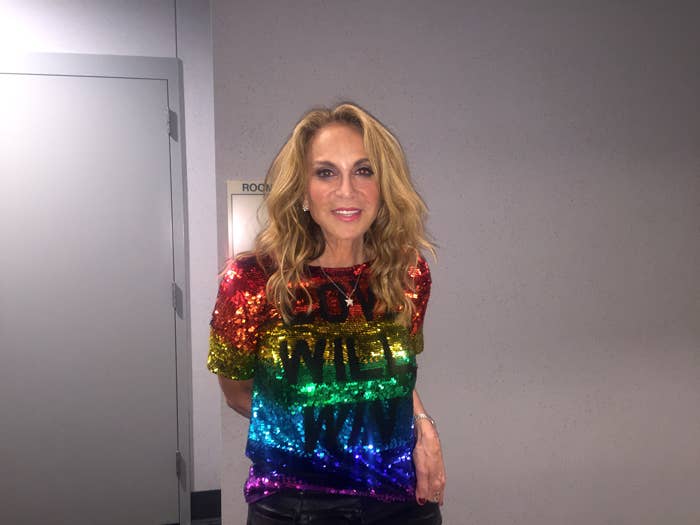 The undisputed star of the night was Yiannopolous, who has become a beloved figure on the alt-right and who just that night had been kicked off Twitter permanently.

Yiannopolous took the stage sporting sunglasses and body armor. "I'm banned from Twitter!" he announced. He then took off the vest to reveal a tank top that had an image of a rainbow-colored gun and the words "We Shoot Back."
"I'm not the only one who recognizes that a Republican candidate, that Donald Trump is the most pro-gay candidate in American electoral history," he said. Yiannopolous then gaggled with the press and stood receiving admirers, of which there were many.
(Two other big names who had been advertised as coming never showed up: Ann Coulter and Roger Stone.)
Taking the scene in was Robert Stacy McCain, a longtime conservative activist and journalist who is in town covering the convention for the American Spectator, he said, and who has also been banned by Twitter. For McCain, this party was emblematic of the new order under Trump: a rejection of 2000s-era Republican moderate-conservative coalition politics.
"The failure of Bushism has made this happen," McCain said. "You have gay libertarians and white nationalists, frankly, who are on the same side."
"People who are marginalized on the right during the Bush years have sort of formed an ad hoc coalition," McCain said.
Brimelow, who was once a mainstream conservative National Review writer before his hardline anti-immigration stances led him into white nationalism, said he believes Trump is "breaking the whole thing apart."
"The Republican party's totally corrupt," Brimelow told BuzzFeed News. "They deserve it."
Nearby, Richard Spencer was thoroughly enjoying himself. Spencer — another formerly mainstream conservative who developed into a white nationalist and now runs a think tank called the National Policy Institute — said he had a credential for the convention but wouldn't say how he'd gotten it, only saying he has "friends in high places." But he said he had continually been running into self-identified members of the alt-right around Cleveland. "The alt right is here," he said.
"It's amazing," Spencer said. "We've taken over the right."