WASHINGTON — A number of American and European antiwar activists and conspiracy theorists have gathered in Tehran for a conference aimed at addressing supposed Zionist control of the United States, according to Iranian press reports and the Anti-Defamation League.
Code Pink chief Medea Benjamin, journalist and former Cambodian genocide denier Gareth Porter, conspiracy journalist and 9/11 truther Wayne Madsen, and PressTV contributor Kevin Barrett are all reportedly at the conference. Other reported attendees include Dieudonné M'bala M'bala, the anti-Semitic French comedian whose performances have been banned in several French jurisdictions, several Holocaust deniers, and former congressman Mark Siljander, who pleaded guilty in 2010 to being an unregistered foreign agent for an Islamic charity that the government said was connected to terrorism.
According to a PressTV article about the conference, the gathering's "goal is to unveil the secrets behind the dominance of the Zionist lobby over US and EU politics." The conference's chairman is Nader Talebzadeh, an Iranian state TV host who previously organized a conference about "Hollywoodism" as a response to the movie "Argo."
PressTV's video report from the scene includes interviews with Porter, who is also shown addressing the audience, and with Madsen, as well as Art Olivier, a former California mayor who is a 9/11 truther.
The conference was originally conceived under former president Mahmoud Ahmadinejad, though Iranian President Hassan Rouhani cancelled the conference in 2013 as part of Iran's softening toward the West in advance of restarting talks over its nuclear program.
Former Council on American Islamic Relations official Cyrus McGoldrick, also in attendance, has been Instagramming photos from in and around the conference:
Panel topics include "Mossad's Role in the 9/11 Coup d'Etat" and "The Israeli Lobby vs. the U.S. National Interest (especially as it relates to Middle East Policy)," according to the conference website.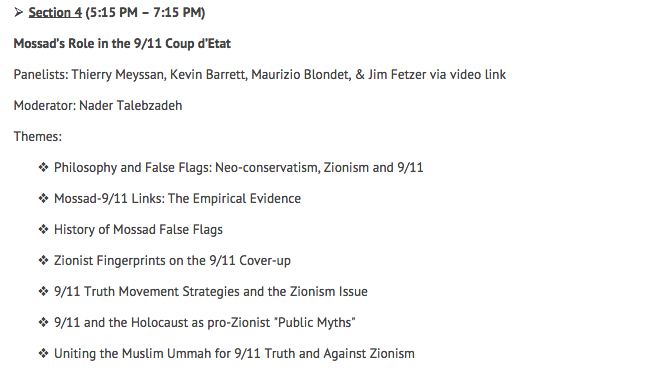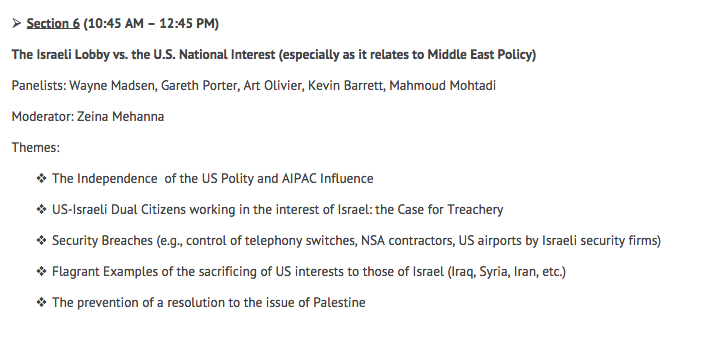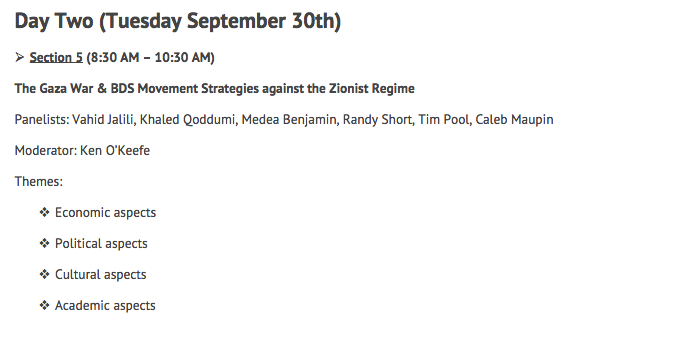 The description of Gareth Porter originally misstated his current position on the Cambodian genocide. It has been changed to reflect that he revised his former position on it in 2010.
After this article was published, Gareth Porter clarified his views on Pol Pot's regime dating back to the 1970s, saying that he in fact changed his mind about the regime's actions much earlier than 2010. He said in an email:
I've just looked up my statements on the Pol Pot regime's policies in 1978-90.

The first one was on the Today Show in June 1978, on which I appeared with William F. Buckley. My statements on the show were cited in my Wikipedia article for years, but someone has managed to get it removed -- obviously not someone who is a supporter. I said that the Khmer Rouge regime had been responsible for massive numbers of killings and deaths from sickness and starvation.

In The Nation magazine, June 9, 1979, I referred to Pol Pot group's pursuit of massive agricultural construction projects at the cost of the health of the population and to the "atmosphere of terror in the countryside, particularly among the 3 million former urban dwellers tho were regarded as suspect by the "old people". I also refer to a "massive new purge of those suspected of disloyalty" that began in early 1977.

In an essay for the book, The Political Economy of Foreign Policy in Southeast Asia, published in 1990, I wrote, that the former urban population of Cambodia, forced to become laborers, "were discriminated against in food distribution, and suffered mass starvation and arbitrary execution."

Those statements represented my realization in 1978 --not in 2010 -- that I had been mistaken in my initial assessment of the policies of the Khmer Rouge regime. The statement I made to the interviewer in 2010 does not say that had just changed my mind. It said only that I had not been asked by anyone to talk about my views for a matter of decades. I trust that you can see the fundamental difference, in light of what had written many years earler [sic].