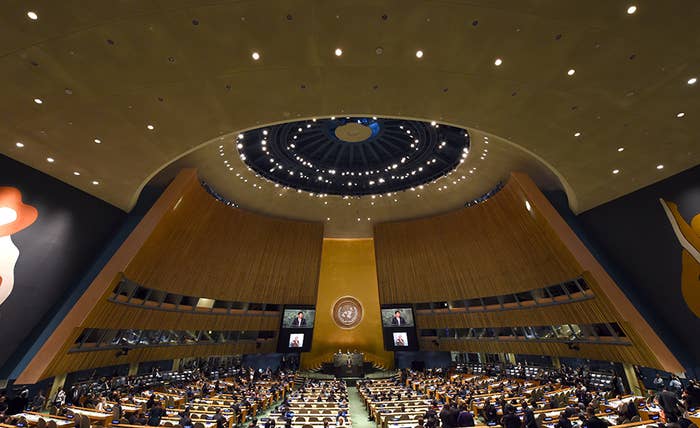 WASHINGTON — Nearly a year ago, the Counter Extremism Project launched with a mission to combat radicalism online and in the real world. Now, they're holding a high-profile event tied to the U.N. General Assembly — with the State Department, the White House, Facebook, and Microsoft.
The group, led by former U.S. envoy to the United Nations for management and reform issues Mark Wallace, as well as former Homeland Security Advisor Fran Townsend, former Sen. Joe Lieberman, and others, is hosting a summit on Monday that "will draw more than 100 youth activists and government officials to New York City from dozens of countries," it says. The efforts are aimed at preventing young people from being lured into extremist ideology, particularly on the Internet.
One company, however, is conspicuously absent from this list: Twitter.
A Twitter spokesman told BuzzFeed News that Twitter declined to work with the group when it reached out to the company last year because of concerns over its "undisclosed funding." Twitter was invited by the State Department to the event on Monday and declined to participate, again due to questions about the CEP's funding, the spokesman said.
Meanwhile, Twitter is participating in the Leaders' Summit on Countering ISIL and Violent Extremism, which the U.S. will host at the U.N. on Tuesday. Twitter also partners with other groups dedicated to combating extremist ideology online, including the Against Violent Extremism Network and Imams Online, a British group — just not CEP.

Asked about Twitter's reasoning in an interview with BuzzFeed News, Wallace said it was "irresponsible" for Twitter to suggest that CEP should disclose its donors. Their being public, he argued, could put them at risk of being threatened. Fran Townsend, for example, has received death threats from ISIS-boosting Twitter accounts, he said. "We keep our donors confidential for security reasons."

"I also think this is an after-the-fact excuse," Wallace said. "This is all it is, a shiny ball strategy to try to distract from their shortcomings."
"That's probably about as serious a statement or as reasonable a statement as what they said in response to ISIS misusing their platform, as 'one man's terrorist is another man's freedom fighter,'" Wallace said, referring to a comment a Twitter official said in a Mother Jones article last year.
It's "indicative of how they will say anything to avoid the reality, which is real concerns across the policy community because Twitter has not done enough to prevent the misuse of its social media platform," he said.
The relationship between CEP and Twitter has never been warm. Last October, a Mercury Public Affairs spokesman for CEP, Dan Bank, sent Twitter a letter that stated the group "would like to send a letter to the appropriate individual at Twitter to describe our mission and explore how CEP and Twitter can work together in identifying extremists and removing them from the site." They received a polite but pro forma response back, and have publicly complained that Twitter isn't doing enough to stop extremists from spreading propaganda on its platform. Bank provided BuzzFeed News three other letters that he said the group had sent Twitter without receiving a response.
As a 501c3 nonprofit organization, CEP is not required to disclose its donors. It has not yet filed a 990 form for the IRS, but Wallace said the group had a multi-million dollar budget and estimated over 35 people "in our direct orbit," encompassing both employees and consultants.
Wallace, as well as Townsend and two other CEP board members, also work (or, in the case of Dennis Ross, have worked) with United Against Nuclear Iran, a nonprofit group dedicated to advocating a hawkish U.S. policy vis-a-vis Iran — and has been one of the most vocal groups opposing the Iran deal. That group also keeps its donors confidential, though it has been reported that Republican casino magnate Sheldon Adelson gave the group $500,000 in 2013.
Wallace said that CEP focuses on researching and trying to shut down terror-funding networks, combating extremism on social media by trying to get accounts shut down, and reaching out to "win the battle of ideas" among vulnerable communities.
Some high-ranking U.S. government officials will be attending CEP's summit, including Under Secretary of State for Public Diplomacy and Public Affairs and former Time magazine editor Richard Stengel, Assistant to the President for Homeland Security and Counterterrorism Lisa Monaco, and Under Secretary of State for Civilian Security, Democracy, and Human Rights Sarah Sewall, according to the State Department's announcement. CEP's press release for the summit promises that "State Department-sponsored grants will be awarded to individuals and groups whose ideas and initiatives are judged promising or ready to scale."
Wallace said there was no awkwardness related to CEP's connection with UANI and its new collaboration with the State Department.
"I don't think so in any way," he said saying that though UANI has been critical of the Iran deal, it has been "supportive" of the administration on sanctions and other issues.