Another Jewish Leader Joins Hagel Opposition
American Jewish Committee executive director David Harris is "puzzled" by the talk of nominating Chuck Hagel to lead the Pentagon.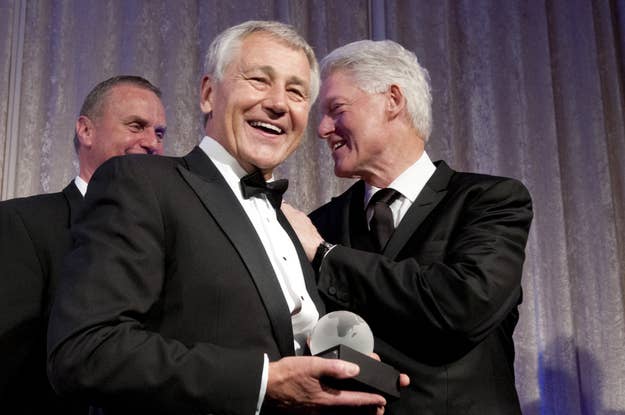 Another leading figure in the American Jewish community joined the chorus of voices against a potential nomination of former Senator Chuck Hagel to Secretary of Defense on Wednesday, saying that he was "puzzled" by the possibility.
"I am very puzzled by the possibility of Senator Hagel's nomination," said David Harris, executive director of the American Jewish Committee, in an email to BuzzFeed. "His voting record and speech trail are in so many important ways contrary to the Obama Administration's. For example, what message would it send to have a Pentagon chief who has very different views on strategies for dealing with Iran, the central foreign policy challenge of our time, than the White House has had to date? Or questions the designation of Hezbollah as a terrorist group at the same time the Administration is urging the European Union to add the group to its terrorism list?"
"The list goes on," said Harris, whose group is one of the oldest and largest of American Jewish groups, and typically occupies a more moderate part of the spectrum than some of Hagel's other, more politically conservative critics. "Indeed, in 1999, Sen. Hagel was the only senator who refused to sign a Senate letter to Russian President Yeltsin calling for tougher action against rising anti-Semitism in the country. We know because AJC published the Senate letter as a full-page ad in The New York Times with 99 names included, but not Sen. Hagel's."
Since the possibility of Hagel at the Pentagon started being raised, many Jewish and pro-Israel groups have been lobbying against him in the press. The Anti-Defamation League even came close to accusing him of anti-Semitism for his sometimes critical views on Israel, and for a remark about the "Jewish lobby."
Hagel's allies dismiss the charges as character assassination standing in for substantive disagreements on policy with a former senator who favors defense cuts and is skeptical about the use of power abroad.